Volleyball Talks Victory!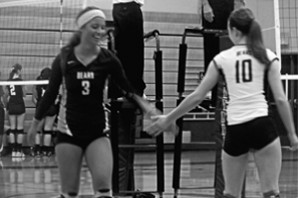 Photo Credit: Lauryn Walker
Lauryn Walker
October 19, 2011
Filed under Sports
The Olympia High School girl's volleyball team has led an undefeated streak throughout the entire season and made sure that it stayed that way through the Capital City Invitational. Olympia v. Wilson was the first team the players faced head on during the event. The Bears made it their mission to flatten the other team with their intimidating spikes and their well-placed serves. The girls immediately scored two points showing their dominance to Wilson.
Skill and a positive attitude drove the girls throughout the game and was the basis for their victory. Ball after ball Wilson was only able to return five times in the first match, allowing the OHS team to win 25-5.
Head Coach Laurie Creighton noted that the girls needed to "communicate on the court more." This second match was even quicker than the previous one. The girls took in the advice from the Coach Creighton and instantly put it to use lead showing Wilson no mercy. The game quickly ended with a familiar score of 25-5, Olympia.
Without the communication, support, and fluid movements between the players on the court, the game would not have been won that day. These girls depict the real meaning of teamwork and continue to show that to the students at Olympia High School. The win that launched the Capital City Invitational surely will not be the last for the thriving OHS girls Volleyball team, as they took second place, losing to Burlington Edison by only two points.