Beef, it's what's for twitter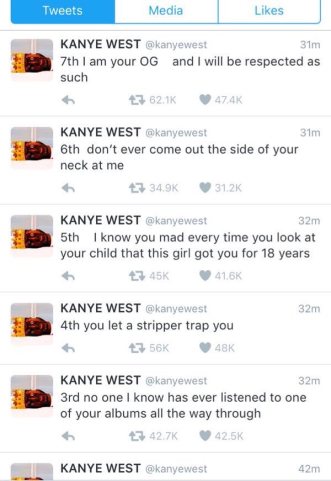 Quinn Johnson, Writer
February 17, 2016
If you're reading this, there's a good chance you're a high school student. If you're a high school student, there's a good chance you have a Twitter. And if you have a Twitter account, there's a good chance you've witnessed some of your friends, or even complete strangers, engage in pointless arguments on the social media platform.
Cyber-arguing is not unique to Twitter; I can recall many wasted hours arguing with someone on Facebook over the years. Senior Jake Palazzi says he's been involved in many social media arguments, but believes they were "all a massive waste of time". But the character limit on Twitter lends itself to long barrages of concise attacks that seem to never cease. When you're online and don't actually have to face whoever you're arguing with, you tend to be more confident in your position and less willing to concede on any point; these characteristics create a recipe for boneheaded discussions where none of the participants have a chance to convince the others of the validity of their viewpoint, but no one is willing to back down and concede defeat.
The ability to argue with anyone in the world with a simple push of a button creates interesting situations that would have been inconceivable a few years ago. When Joaquin "El Chapo" Guzman, the notorious Mexican drug kingpin, escaped from prison in the summer of 2015, one of his first acts as a free man was to issue a death threat to Donald Trump's Twitter account, in response to allegedly racist remarks the presidential candidate had made about Mexicans. More recently, rappers Wiz Khalifa and Kanye West (plus their mutual ex, model Amber Rose) engaged in a hilarious free-for-all filled with instant quotable like "You have distracted from my creative process", "Don't ever come out the side of your neck at me", and the ultimate coup de grace, "[Dude] it's called creativity". Senior Cristian Smistad says he paid attention to the conflict because "[he] knew Yeezy would ether Wiz", citing the rapper's lyrical and stylistic superiority as the decided factor in the beef.
Even Olympia High School hasn't been free of the scourge of electronic argumentation. Last year, when a student tweeted a meme stating that Drill was not a sport, the Drill team erupted in righteous fury and the administration eventually had to intervene (in the unnamed Student's defense, the school district classifies Drill as an activity and not as a sport). Numerous Twitter account such as "Oly Confessions" have stirred up drama in the Twittersphere with controversial, supposedly anonymous statements, compliments, secrets, and insults.
The potential of social media to be a unifying and equalizing force in society is constantly sabotaged by our human proclivity towards conflict and tearing each other down. Hopefully someday we'll all realize we have better things to do with our life than trying to destroy each other's electronic personas in 140 characters or less. Until that day of reckoning comes, I suggest you sit back and enjoy the show.