Olympia punk scene shows it's support for all-ages venues!
Hang on for a minute...we're trying to find some more stories you might like.
It's 8:00 pm and you can already hear some local band blaring from 4th ave.  As the sun dies down, the lamplight catches on the jackets of tonight's showgoers.  Studs, belts and patches.  Looks like an intimidating crowd to any bypasser, but in reality, it's just a bunch of friends here to see tonight's bands.
The Olympia punk scene has plenty of all ages shows, and there's a reason for it.  "I like all ages.  Everybody and anybody can show up and it's usually a rowdier crowd," local musician, Brandy Rage stated.  Plenty of venues in Olympia cater to all ages audiences.  Le Voyeur is among them, hosting all ages shows until 10pm.  "it's smaller and more intimate for local shows.  It's like a plug in and play kind of venue," said Brandy.  Obsidian is another venue that does all ages shows until 10pm as well.  Even some restaurants are hosting all ages shows including Old School Pizzeria and New Moon Cafe in downtown Olympia.
House shows are a huge part of the punk scene as well and as Brandy stated "House shows add a whole different dynamic to the music scene." and there are a few houses open to all ages.  The Hind Quarter, an up and coming house venue in recent years has been hosting traveling and local bands.  Nikki and Jean, both avid supporters of local music have been pushing the venue in a positive direction.  "We want to provide a safe space for local people of all ages to come, hang out, meet new people, learn about what they do and hear what they have to say."  When asked about cliques in the music scene and in the punk scene specifically, Jean stated,  "As far as cliques go, I think cliques are really just groups of like-minded people trying to make life easier by sticking close together.  They are sometimes intimidating, and that sucks.  I would say just go for it.  Be bold and confident.  Everyone should recognize themselves as valuable individuals with something to offer, just be assured of your own value."
"it's all generally good people so just get over it and come down and have fun!" -Royal, the drummer for the local hardcore band, Krunt.
"There is a really amazing music scene here and if your true passion is music, show up to shows and it'll be alright," -Brandy

About the Writer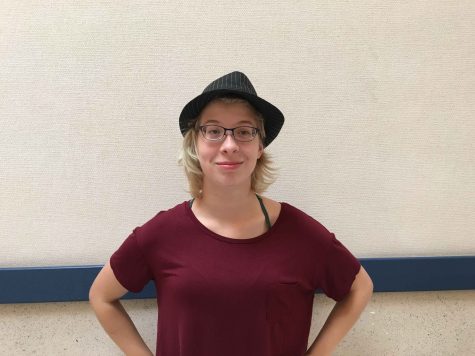 Chloe Webster, Writer
I'm Chloe Webster, I'm 17 and I am attending OHS as a senior.  I signed up for this class to improve my journalistic writing skills, and to report...