Among Us Tops the Gaming Charts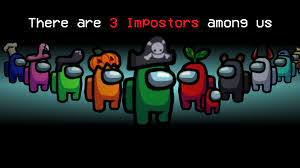 With the ongoing pandemic keeping everyone indoors, the newly popularized video game Among Us has taken over the gaming community. 
     Among Us is a mafia-style game where a group of people play as crewmates on a ship. As everyone goes around doing assigned tasks, 2 secret "imposters" are working together to kill everyone else. The game is simple, if the crewmates finish their tasks or vote off the imposters, they win. But, if the imposters manage to kill everyone else, then they win.
     Although Among Us was created in 2018 by Innersloth, a team of four creators. it took the entire gaming community by storm when it was played by popular Twitch streamers such as sodapoppin, xQcOW, and Admiralbulldog, reaching live concurrent viewers in the hundreds of thousands. Very quickly after the game was played by these streamers, thousands of people flocking to it. Those thousands then turned to hundreds of thousands, and now in the millions.
     Luck is a huge factor when determining which games will become popular, but what sets Among Us apart from other mafia-style games? An anonymous 12th grader, believes that since there is no easy way to catch the imposters right off the bat like in many of these types of games, Among Us requires the expert use of logic and lying to secure the victory for the team.
     People of all ages all around the world have fallen in love with this game. 3rd grader Amelia Smith claims to play around 20 games a day on weekdays, while playing even more on weekends. Not only are elementary school kids loving it, but middle schoolers, high schoolers, college students, and even many adults are getting into the game. According to Housh, he and his friends play almost every single night for a couple of hours.
      Not only do people become captivated by the fun of the game initially, but they tend to keep playing again and again with no sign of stopping. 6th grader Caroline Benford claims to play every day as much as possible, and still enjoys the game because she loves using her memory and skill as an imposter to win. According to Housh, "Every game is different and there are plenty of strategies to use."
     Within the game, there is an option for people who may not have others to play with. "Lobbies" allow you to join with random people in them. This is a great option for solo players, but most people tend to find lobbies with their own friends much more enjoyable. This is the case for Benford, who mainly plays with friends, but will hop on to some lobbies to enjoy some games of Among Us with new players.
     With only three developers on the Among Us team, the game was small and glossed over until the right group of people gave it a try and discovered this hidden gem of a video game.