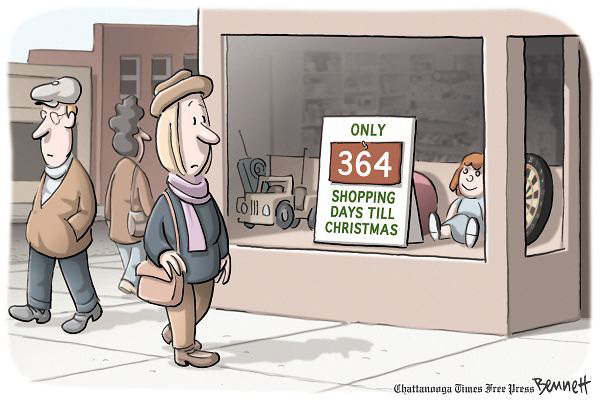 Chattanooga Times Free Press
     It's the most wonderful time of the year, but when does this time start officially? People of all ages will listen to Christmas music, make special food, watch movies, and set up decorations in their homes. Some will say it's as early as November while others will start celebrating one or two weeks into December. People are able to listen to popular Christmas songs year-round while others are covering their ears by the middle of December. So the question is, when is the right time to start the yearly festivities and celebrate?
     Local teen Rylee Hoy celebrates Christmas every year and says that "the month of December is the best time for celebrating Christmas because November still feels like fall. When you think of December you think of snow, Christmas, and winter as a whole." Hoy adores the holiday and typically listens to seasonal music, watches movies, and enjoys the delicious food. When asked about a downside of starting too early, she said "I believe that people often lose their Christmas spirit easily by the time Christmas comes and that they wouldn't be as excited by the time Christmas comes."
     Bryann O'Neil and her family also enjoy celebrating the popular holiday. She says this year they'll celebrate in November. "It's bringing lots of joy around our house. On a normal year, our elf comes out the last weekend in November. This time of year goes by so quickly so I love starting earlier rather than later." Many families are in need of something to look forward to in 2020 and a longer holiday season will be just that. Snow forts might be leaf piles and turkey dinner could come with Christmas movies. By the time the holiday finally does arrive, your tree may be dead but your Christmas spirit will still shine bright.
     As a grandmother who celebrates Christmas, Linda Cook loves to celebrate early. When it comes to the well known Hallmark movies, she's "already started watching them this year." Traditions are big for Cook and her family. She makes gingerbread houses, plays Christmas CD's, and bakes cookies.  She says "after Thanksgiving, we change our fall decorations right after and I start decorating for Christmas." In terms of celebrating too early or not, Cook likes to leave her decorations out for multiple weeks after the holiday has passed. She added, "If you make Christmas cookies too early, they'll dry out." Besides that, she doesn't see very many consequences of kicking things off too early.
     With a global pandemic, a nail-biting election, and lots of other things going on in the day-to-day lives of many, the holiday season couldn't have come at a better time. Whether you celebrate a week from now or a month from now, many can agree that it will provide a pleasant addition to our year. People of all ages celebrate this season and everyone seems to do it in their own unique way. Everybody can soon hope for a happy, healthy, and safe holiday season.