Olympia Music Artists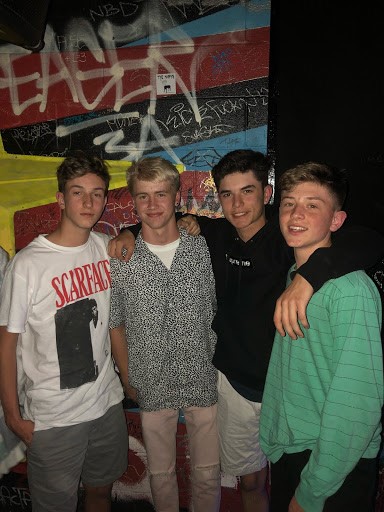 As a person growing up in the age of media and the internet, access to at-home resources is more extensive than it has ever been. Apps and websites provide free access to world-class tools for anyone with a mobile device or a computer, including resources focused on videography, photo editing, music production, and much more. The use of these tools is becoming more and more popular, especially among younger generations.
     Among the many applications of these new technologies is music production and song publishing, which has become very popular among high school students. At OHS, there are many students who have begun creating their own music. Noah Tanner, OHS senior and full-time Running Start student, has been creating his own music since he was twelve. "My Dad forced me to take piano lessons when I was nine, and I really didn't want to, but he made me and I slowly started liking it, so I stayed with it. When I was twelve, I saw a video on YouTube of Martin Garrix breaking down how he made the song 'Animals'. I thought 'Wow, I wanna do this.. this is way cooler than playing piano.'" He says that he struggles to place his music in a certain genre, but would most likely refer to it as alternative electronic music. Tanner has grown immensely as an artist over the past few years, signing a deal with a label and receiving over 400 thousand views on Youtube on his most popular song, 'luv!' Tanner feels that there is a lot of opportunity for exposure as a small artist through platforms like YouTube and Spotify. He feels that his passion for music has stayed alive for so long because "It's limitless; to me there is a never-ending amount of emotions to feel, and each sound/frequency emits those emotions. I think we define certain emotions but there are millions of others that are much more specific. I think music is my way of expressing those emotions without putting it into words but instead into literal frequencies." 
     Ulysse Saltiel, a senior and a friend of Tanner's, reflects on the ways he has seen Tanner grow. "Over the years I've really seen him explore his talent, and grow and learn in music production. I've seen his emotional journey as he writes and develops his songs, and the growth that he's experienced is not only visible to his closest friends, but I think it's visible to everyone." Saltiel and Tanner have been friends since middle school, and Saltiel was one of his first fans. "Noah has a certain type of drive and devotion to his music. He's going places," concluded Saltiel. Tanner spends hours a day working on his music when he isn't busy with other things like work and school, and really hopes to continue his music career throughout his life. "Music will probably be more of a hobby as I grow up, but I also think it would be really cool if I could have a job and also perform on the side. I think I could go further in producing music, but my own personal career would be more of a hobby." Although busy with college applications, a new job at Papa Murphy's, and finishing his senior year of high school, Tanner continues to find time to work on his songs and looks forward to what he will make and release in the future.
     Another artist from OHS, senior Jesse Chau, has become involved with music production more recently, releasing a handful of songs on Soundcloud over the last seven months of COVID-19 shutdowns. "I make pop and sort of my own type of contemporary rap, and I sing and produce all of my songs. I really got into making music when school got closed." Chau goes by 'JCHAU' on Soundcloud and has loved the process so far as a new artist. "Usually it will take me five hours plus to produce a song all together, but the process of coming up with the melody and lyrics usually will be the easier part of the process." Chau recently released a music video to one of his newest songs and plans to continue creating music in the near future.
     Overall, the music scene at OHS has grown greatly in recent years due to the increased access to recording software, editing software, and platforms to release songs. It has become an outlet for many students to express themselves in their own ways, as there are a multitude of genres of music to sing and produce. Most likely, this trend of DIY music will grow in popularity throughout the coming years, and likely become an established part of American pop culture, all coming from kids who go to schools just like Olympia High School.