The Process of a Production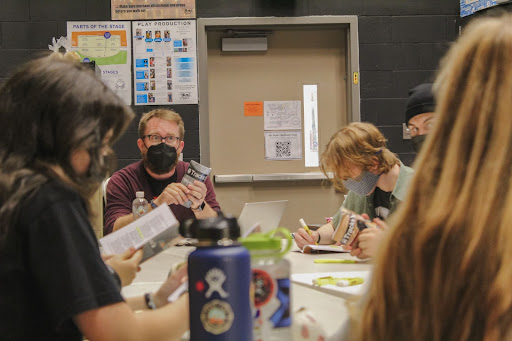 Olympia High School's Theater Arts fall production, Tracks, has been cast and the rehearsals have begun. Bringing the school together, this year's theme is about being better together as one. One of the first things to do when starting a new school production is to have a first table reading, as everyone acts around and with each other for the first time, showing just how well the chemistry flows between actors. Before that, they have to come up with a list of shows for the year.
When putting together a show for each year, the beginning stage is planning out and reading the synopsis of different scripts. Before choosing any script, there has to be a leading theme for each season and year. Dallas Myers, Theater Arts Teacher, Director, and Avid 9 teacher said, "This year's theme I really want everything we do [to be] about being better together. Every show that we're doing this year has that thematic thread in it." Every school year, Myers reads around eight new scripts sourced from expansive 1,000 person Facebook groups, where authors can share their scripts and give recommendations to other theater teachers. It can be a struggle for him to find what he's looking for as he doesn't always want mainstream scripts, so he looks for newly published scripts on Concord Publishing.
The auditions have concluded for Tracks, even the director and stage manager were surprised with the amount of people for a ten-person cast list. "Like, 45 people audition for a show that has ten parts. It's really evident right away that this was going to be a tough casting choice," Myers said. Finding the people for this cast was difficult, not just because of the number of people, but because there was no obvious 'no' for each person. Additionally, when he watches the auditions, he's weighing their acting abilities against their willingness to be bolder and to portray confidence. Myers explains, "I look for someone who is confident…nerves are really hard to get past, comfort is important. Willingness to…make a bold choice or to make a choice, instead of just reading words off a page. "
The first day of rehearsals was exciting, as Dylan McDougal, one of the stage managers, stated. "I'm very excited for this show. I read all the audition material and the synopsis of the play. It's a really interesting story, and I'm really excited about the people we have," says McDougal. As he states, the best part about Tracks would have to be how the ending of the production unfolds.
As the season begins, productions' casts will continue to meet over a six week period of rehearsals, to breathe life into the pages of the plays they are about to tell you about. It will mark the beginning of a successful production season once Tracks meet and complete their stories upon the stage.
Tracks will be showing on November 18, 19, 20, in the PAC.