Let the Game Begin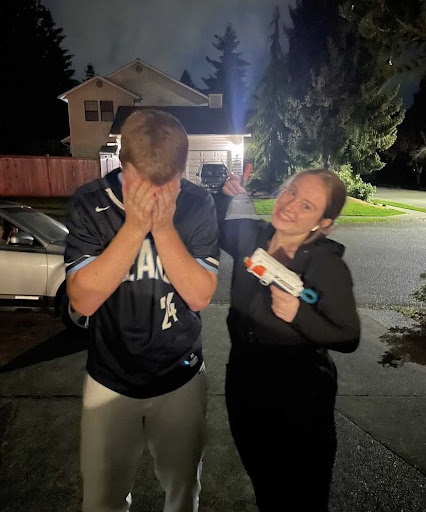 Senior Assassins is a cold game of betrayal, secrets, and dedication and it kicked off at Olympia High School with a bang. "I didn't see it coming," says senior Joshua Wodka, who was eliminated by Noelle Jekel late Saturday night.
Jekel had someone parked at the school to let her know when the baseball bus had arrived home, after winning a district championship, while she strategically placed herself at the Wodka residence in a bush. She shot twin brother Jacob Wodka first, confusing Josh into thinking he was safe, which resulted in his elimination. 
Hunter Irish was much more successful this weekend. Irish was able to get two assassinations in one day and, "I almost got a third," Irish claims. Irish owes a lot of his success to his friends and "I was glad I was able to share the fun and the glory with the guys I was with," Irish shares. However, going forward Irish plans to keep his circle smaller and "I'm going to play a little more smart," he says. In the game of senior assassins you can trust nobody. Not even your best friend.
 "Because we're so close, I know his whereabouts and habits pretty well," says Alex Hodson about his friend and target Nick Mason. Hodson eliminated Mason on Sunday while Mason was working out at the YMCA. Hodson bought a day pass to the gym in order to secure this kill. 
Public places, such as the YMCA, are fair game. However, anywhere on the OHS campus, in a running car, in the target's house (unless invited in), or at their place of work, are all off limits. Seniors are also safe from being shot when naked. The game maker this year has very clearly communicated the rules, in order to avoid disputes. 
"Alex is one of my closest friends, so having him be my assassin was definitely heartbreaking but there is truly nobody else I would want to take me out. My brother ended my run, fair and square," says Mason. Senior Assassins is a game of no mercy and zero trust. Even the very first elimination by Max Tuitele was a sellout. It was, "thanks to an insider tip that I was able to find his [Dan Sunchu's] location," Tuitele shares. 
Somehow, this cold-hearted game is still something that seniors' are excited about. "It's a great way to connect the senior class, one final time," claims Dan Sunchu, even after his elimination. Sunchu plans to stay involved in the game by helping out his friends. 
Wodka also plans to stay involved as, "there's financial incentive to sell information." Such as a friend's location, or schedule. People are willing to pay, since there is $500 on the line.