Ready Player One Book Review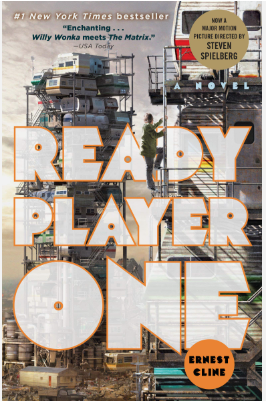 Ready Player One is an action-packed and futuristic story about video games, virtual reality, '80s trivia, and hidden puzzles. 
 The story follows Wade Watts, a teenager living in a dystopian society in 2045. The world has been ravaged by war, famine, and poverty, and humanity has found its one escape from it all: the Oasis. The Oasis started out as a regular old game, and over the years, it evolved into a worldwide virtual reality phenomenon where you can do pretty much anything. Want to buy a house, go to school, see replicas of your favorite places around the world, or visit the virtual reality set of your favorite movie? All of it, and more, can be done in the Oasis. 
After the death of James Halliday, the creator of the Oasis, a contest was announced. The winner of the contest would win the company, Halliday's estate, his multi-billion dollar fortune, and more, and all you had to do to win was be the first to find all the keys and easter eggs hidden throughout the Oasis. 
After years of nobody getting anywhere, Wade solves the first clue and finds the first key. Suddenly, he is thrust into the spotlight, and it becomes a race not only for the prize but for survival. 
If you like books with really rich and detailed descriptions or books filled to the brim with lore, trivia, and secrets, then you would love Ready Player One. It has a 4.4/5 rating from Google, a 4.2/5 rating from Goodreads, and a 9.8/10 rating from Fantasy Book Review. If you like this book, then you will definitely enjoy the 2018 movie based on it, and the sequel to the book, Ready Player Two. Both this book and the sequel are available in the OHS library, so go out there and read Ready Player One, and tell us what you think about it in the poll below!
If you have a book you just finished reading and would love to share with others, or a video game you've played and think deserves more attention, then you can email me at [email protected] with suggestions! 
How do you feel about Ready Player One?
Sorry, there was an error loading this poll.