The Pope's Exorcist movie review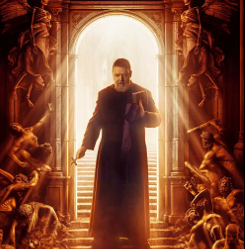 For fans of horror and thrillers alike, The Pope's Exorcist is an unexpectedly comedic movie centered around the chief exorcist of the Vatican. Portrayed by Russel Crowe, the main character Father Gabriele Amorth is on a mission to uncover the truth about a forgotten Abbey in Spain, where mysterious possessions are happening. To accomplish this will take Father Amorth, the local priest, and the trio that inhabits the Abbey on a dangerous journey through the past to discover the home's hidden secrets. 
Based on the memoirs written by the real-life Gabriele Amorth, this action-packed movie, directed by Julius Avery, recounts one of the exorcisms he performed, totaling nearly 100,000 in his lifetime. Although some controversy remains about the truthfulness of Hollywood's depictions of the Catholic church, the movie is still enjoyable for all kinds of people. For those interested in relatively tame horror movies, this film may be a refreshing supernatural movie but isn't considered as terrifying as some of its more iconic predecessors. Nonetheless, this recently released, rated-R film can still be seen in Olympia theaters.