New Coaching Staff
Hang on for a minute...we're trying to find some more stories you might like.
n January 21st, the first public article was published on Bill Beattie leaving Olympia High School and it's football program. Two days later it was official. Bill Beattie was continuing his career 4.3 miles down the road. Of course, many people's reaction were filled with anger or sadness, but to many, the decision wasn't much of a surprise. Ketner Young, Olympia senior and varsity quarterback stated "At first I was upset because I've been around him since 2nd grade, but after thinking I felt it was okay because he was heading back home." When it came to players being affected, not too many players let Beattie's departure hold them back. It became a motivator for players and made them want to work harder. Jaren Thorpe,Senior, who has been a varsity player for the last 2 years said "Beattie leaving didn't affect us at all, our goals didn't change. One part of the change that affected the players was the months they had to go without having a direct leader. Noah Peralta, Olympia's newly changed Defensive End stated "not having a coach for a while was difficult but we all got through it."
When it was announced Steve Davis would be Olympia's new coach, many people were excited because Steve Davis was a very familiar face around the Olympia program as he's been an assistant coach for more than 20 years When asked if there was a new energy with Coach Davis around, Assistant Principal, Ms. Welsh added "The players seem to be more dedicated and more eager to win".  Olympia's Football Team started the season with an impressive 3-0 start, Jaren Thorpe also included he believes "There is a lot more excitement, players feel more free to be themselves." Players and coaches also added they think everyone just wants to overcome the adversity they've had to face during these past 6 months, and ultimately win a state championship. Connor Schultz, ex OHS football player and current coach stated " At first, Beattie leaving was tough because he had such an impact, but I believe change can bring positive results. I also believe he left a positive environment here which helped everyone carry on."
With how closely of a connected community Olympia is, it was important to many that the whoever the new coach was going to be that he was liked by not only the players but also all of the others who are involved. Star TE, Corbin Hartsock says "Coach Beattie leaving Olympia did affect me as a player due to the fact he had helped me with recruitment and I was used to having him as the leader of our team from a coaching standpoint. But Coach Davis has done an amazing job with taking over those rules and I've been beyond grateful for it". Ms. Welsh also added "Davis and staff have done a good job of balancing the team. They have kept old traditions while adding new ones and overall just showing a true example of showmanship." From an inside perspective from a player and an outside perspective of staff, I would say Olympia's new coach, Steve Davis is liked very much and has been accepted by the community very well.
While Bill Beatie's departure may have left a bad taste in people's mouth at first, but as time goes on many people are now accepting he was only chasing his dreams as many of us are and with that, sacrifices will come. From a player point of view, it seems that many players have taken the change and used it as motivation in not only showing ex coach, Beattie what he walked away from, but also their mental strength and what they're capable of overcoming. To the rest of the community who may only understand things from a distance, they have all seemed to enjoy Coach Davis' presence and the leadership he's brought to this year's team. Coach Davis' leadership and commitment to the team has gained him a new love and respect from many, and hopefully he'll be around Olympia for years to come and continue to offer great things to the community.

About the Writer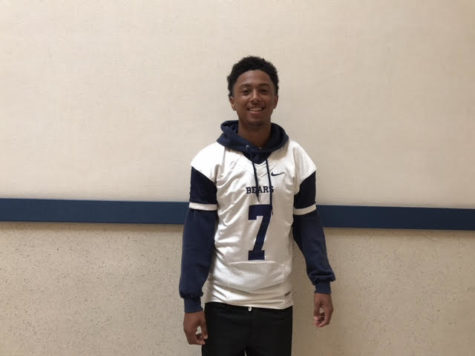 Kardel Arnold, Reporter
My name is Kardel. I am  a senior at OHS. I'm in journalism due to my writing skills and I look forward to covering controversial topics!