Fall Play
Hang on for a minute...we're trying to find some more stories you might like.
Welcome to Brayton. A small town in the middle of nowhere with a population of under 100 people, all of whom know each other and the adolescents go to to Brayton High together.  In such a small town, some wish for bigger and better lives, and some are content with their lives.  Through relationships, hometown heroes, runaways and egg cartons, students of the senior class spend their last year taking chances, and discovering who they are. Their stories are told through four acts that create this year's fall play "Somewhere, Nowhere" by Lindsay Price, directed by Kathy Dorgan.
 Somewhere, Nowhere is a very real-life based play with many situations seniors, friends, couples, and siblings go through.  Mrs. Dorgan says that she chose this play "because it offered a lot of opportunities for actors. I also really liked the naturalness of the dialogue, and that it has really funny moments as well as serious moments. Finally, I think it is about a topic that everyone goes through at some point. We all have to make choices about our future." Due to the relatable characters and situations, there are many takes on what the moral of the play could be. Kate Hayes, senior plays as Trina Tews, the underappreciated younger sister of the hometown hero Tyler Tews, and her take on the moral is "Be yourself, and don't be afraid of following your dreams. Dreams can be big or small." Karlee Brannam, sophomore plays Marlee, a student at Brayton who likes cabbage rolls, and her take on the moral is "You shouldn't be afraid to take chances that might not be available later."
   Along with their characters, 19 actors learn these lessons too. Kate says that the cast is full of talented people, and she loves watching them develop their characters. Mrs. Dorgan says her favorite part of the show is the people we work with, and the relationships we form to create a story. Aidan Scuderi, junior plays as the cake-loving best friend and his overall thoughts on the play are as follows; "It's a very light hearted play. There's lots of laughs and cries."
 After school, running crew works hard on build days to design and create the sets for our shows.  Megan Wakefield, senior is a drama club officer, and set designer for Somewhere, Nowhere and she designs the carpentry dimensions and sets for the show. Her job begins with looking through the script, watching remakes, and sketching ideas in her binder. She then gives them to John Chernoff  and Mrs. Dorgan, who tweak it how they wish.  Once approved, the sketches are introduced to the running crew, who learn.  and build on build days. No one is specifically on running crew, there are many different jobs students take on to make these shows happen "Everyone does some form of carpentry.  Lilly is the set designer, Kevin is on sound, lighting is done by a professional and a student assistant. Everyone else does a little bit of everything." says Megan. "But we really wouldn't have a show without John.  He clears everything, teaches everyone, and guides." Thanks to John and running crew Megan says that this is the fastest set they have ever made, but they could use more people coming to build days. "Show up to build days!" Megan encourages, along with three others from running crew. "You can make new friends, and earn thespian points!"
 "I hope that audiences, find something to learn in our shows, that they see a little bit of their own lives or ideas." This is the hope of Mrs. Dorgan, the cast and all running and tech crew. Opening night is October 27th and all interviewees encourage students and families to come see the show and support the arts. "Come see the show! I hope you like it as much as we loved working on it!"- Kate

About the Writer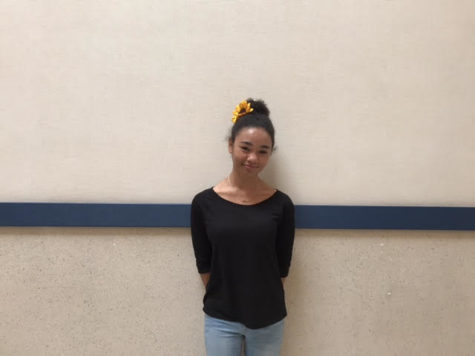 Lia Freeman, Reporter
Hi! I'm Lia. Despite my appearance I am a senior this year and I'm excited for my second year at OHS! Through journalism this year, I hope to discover...