Where to Trick or Treat
Hang on for a minute...we're trying to find some more stories you might like.
With Halloween quickly approaching there are many things to take into consideration. For some of you the main concern might be where the best halloween party will be, or perhaps what you'll wear. For others, the main concern was and always will be the candy. This guide will help better anyone's Halloween experience and if you follow it you'll surely see an increase in how much candy you rack in.
The first and most important rule of trick or treating is knowing where to find the best spoils. Asking around Oly to find where students prefer to trick or treat Sam Eder, a Junior, recommended the neighborhood "Wilderness", while Gunnar Sund, a Senior, said that "Boston Harbor Marina is the best". Regardless of the specific neighborhood you choose, you'll want to find a nice neighborhood. The nicer the neighborhood, the more money they have to spend. In this case, on candy. This means (in most situations) bigger, better candy bars. We're talking King sized bars. However, If you're more interested in Halloween aesthetics than the biggest, best candy bars then try the South Capitol neighborhood. They take time and care into decorating their homes every year for an authentic Halloween experience. No matter the neighborhood you pick, you're sure to find good candy, just avoid eating any bags that are already open.
There are additional, less conventional ways of filling your pillowcase with candy. For example, if you find a bowl that says "Take One", emptying the bowl will surely add some weight to your bag. Doing so might be extremely unethical but it's Halloween. Students like Brady Krueger, a Senior had no shame in admitting to taking part in this act, even laughing at the question. Another less traditional form or harvesting candy comes in the way of fun community events. ThurstonTalks.com had a plethora of recommendations for such activities. The first of which being Trunk or Treat, an event running from 6:30 to 8:30 pm in the parking lot outside of Capital Christian Center on Halloween night. It features themed cars full of candy up for grabs. Another event, running at the same time is located at The Boys & Girls Club of Tumwater and features things like bouncy houses and face painting.
Whether it's in neighborhoods or at community ran events, you'll surely find your share of candy this Halloween. Be sure to check your candy for tampering before consuming and be sure to enjoy yourself.

About the Writer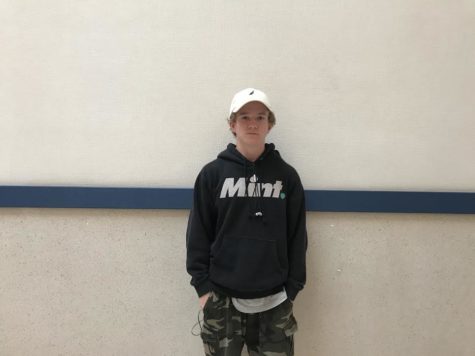 Brandyn Harpel, Reporter
My name is Brandyn and I'm a senior this year at Olympia High School. This is my first year writing for The Olympus and I hope to do a good job. In my...