Class Participation
Hang on for a minute...we're trying to find some more stories you might like.
Teenagers, students, and even business men and women are not participating anymore. Why though? What makes students not want to participate? According to the MIT Newsletter "About 67% of students feel like they could participate more in class, but they aren't interested in the topic." However that's not the only reason to why students these days don't like to participate in class. Why do teens have such a hard time participating, and speaking up in class when a teacher asks a question?
Teachers, and students at Olympia High School feel like the participation level could be better. What can you do to better educate yourself, and participate in class? Ms. Hogue the Algebra 1, and AP computer science teacher explains "I do have a really hard time getting my classes to participate in the activities. That's why I like to do so many hands on type of activities such as the scavenger hunts. It actually makes the students get out of their seats, and practice their math skills. If they get it wrong then I know they need a little help."  Getting students to participate can be really hard now a days with the lack of interest in the subject, and because teens are addicted to their phones.
Some teachers, and students at this school feel like the participation level at this school is a little bit too much, and that people should take a step back, and let some other kids talk for a first. World History Ms. Talavera explains that "About half of my classes like to participate and sometimes they participate a little bit too much, and some classes are super quiet and don't like to participate at all. For those days that people are shy, and quiet though, I like to use my equity sticks. An equity stick is a popsicle stick with a name on it, that I draw from a cup, and whoever's name gets called has too answer the question." Different teachers have different methods of teaching too get their students to participate. But why don't students like to participate in the first place?
Sophomore Isabella Robertson admits "I could definitely participate more in class, but when it comes to socratic seminars, and group discussions I do my fair share of participating. I just wish that other students would participate more in class though. I think that their problem is that they lack interest in the subject, or that they're just afraid that they will get the wrong answer." Almost everyone is afraid to ask and answer question, because they fear that they will get the wrong answer. How can Olympia High School participate more in class, and encourage others to participate as well? "I think that when my kids don't participate in class, I feel like they are either afraid of asking a dumb question which they shouldn't be, because there are no dumb questions. There are clarifying questions, and there are questions that the student might think is dumb, but a lot of other kids probably have the same question." Says Hogue.

About the Writer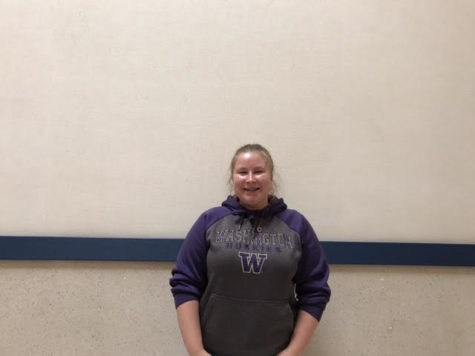 Emma Hodge, Reporter
Hey I'm Emma Hodge, I'm a sophomore this year, and my position in the journalism class is a reporter. Some things I love to do are write (which is why...