Yearbook
Hang on for a minute...we're trying to find some more stories you might like.
At the end of each school year, many students of Olympia High School walk out with a copy of the yearbook. And while signing and browsing yearbooks may be a favorite end-of-school activity, it is actually a painstaking year-long process taken on by none other than Olympia's yearbook team. Their job is to gather and document information on everything that happens within these walls–each student, teacher, club, class, and activity–and compile them into a fun and memorable book for everyone to enjoy and reflect on the final week of every school year.
Olympia High School's yearbooks are very carefully and thoroughly written. "The editorial process can be really complicated," says Mr. Zarate, the Yearbook Team's supervisor. "Pages can be checked over six or seven times. It's important that we miss no details, spell every name correctly, and don't get any facts wrong." Kalie Roth, the Yearbook's senior editor, explains the toughest part of her job. "It can be really hard for me to lay down the law. It's uncomfortable at times to be insistent on things toward people. But it's just a necessary part of the job."
Olympia High's yearbook team values all-inclusion to best encapsulate the events and faces of each year. "It's our top priority to include everyone at the school at least once. It's also important that we balance this out, to some degree. We usually end up with ten-or-so instances of any given ASB student, because they do so much. But we don't want it to seem lopsided."  Kalie understands the importance of keeping the product fun. "We've been trying to include some of the school's quirkier things," she explains. "We like to have special activities like Unified Sports in the book. Of course we put in the basic classes like Math, English, Sciences, but we also like to have CTE classes like visual communicates and accounting."
Natural hardships often increase the difficulty of yearbook production. "I have a lot of great students in here, but it's hard sometimes for them to balance their work here and elsewhere," Mr. Zarate explains. "I have a lot of kids in here are athletes, or employed, or taking some advanced classes. Sometimes that can be limiting to what they can get done here." Gathering information for yearbook profiles can be difficult, too. "Being on the team requires a bit of homework from everyone," Kalie explains. "With sports, for example, you have to be there, outside of school hours, to get pictures and talk to people. Then you have to write on what you gathered. This can't all be done in class."

About the Writer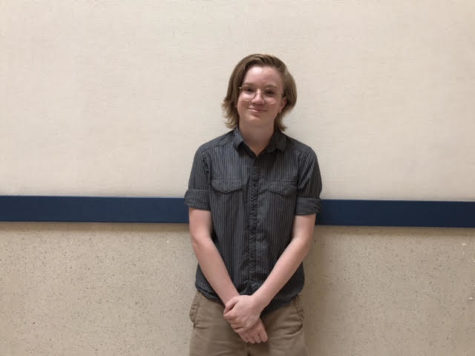 Charlie Furgeson, Reporter
It's my first year as a journalist, I am a junior as well as a reporter. I decided to join the class because I do enjoy writing, even if I'm not especially...