Holiday Cherry Pie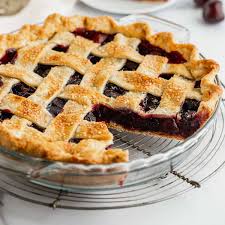 Ingredients:
3/4 cup all purpose flour
1/4 cup white sugar
1 teaspoon packed brown sugar
1/4 teaspoon ground nutmeg
1/4 teaspoon salt
6 tablespoons butter, softened
1 (9 inch) unbaked deep dish pie crust
1 (21 ounce) can cherry pie filling
1/4 teaspoon ground cinnamon
1/3 cup sliced almonds
Instructions:
Preheat an oven to 425 degrees F (220 degrees C).
Whisk together the flour, white sugar, brown sugar, nutmeg, and salt in a bowl. Cut the softened butter into the flour mixture using a pastry blender until crumbly; set aside.
Bake the pie crust in the preheated oven for 10 minutes. Remove from oven; reduce oven temperature to 350 degrees F (175 degrees C).
Stir together the cherry pie filling and cinnamon. Pour into the prepared pie crust. Sprinkle crumb topping over the pie, then sprinkle with the sliced almonds.
Bake in the preheated oven until crumb topping is lightly browned, about 45 minutes. Allow to cool about 30 minutes before slicing. Serve warm.
From All Recipes