Breaking the Cycle of Poverty, One Well at a Time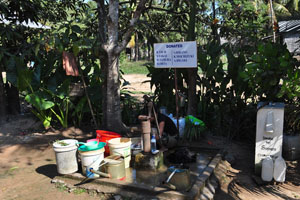 Elizabeth Fela
March 30, 2012
Senior Allie Clerget is running The Water Project at our school. The Water Project is a non-profit organization that, with our help, builds wells in the African countries of Uganda, Kenya, Rwanda, Sierra Leone and Sudan. The students and teachers in our school tend to be very generous, as clubs such as Key Club and National Honors Society require community service hours for membership.
Why the Water Project? There are many great charities to choose from, but what was Clerget's deciding factor? "We thought it'd be great if we could help build a well and break the cycle [of poverty]," Clerget states with a smile.
The well OHS is fundraising for is to be built in Uganda. The goal was to raise $6,500, which seems an unattainable goal, given that in OHS history, it has been rare that a group of students has ever raised such a large amount without Administrative assistance and help from the greater Olympia community.  Clerget agrees, saying that even though she graduates at the end of this school year, she hopes OHS will continue next year to add money to this year's total.  As of Thursday, March 15, Clerget estimates over 200 pledges were placed.
Clerget asked the school to "give it up so you can give it away." The challenge was to drink only water for two weeks and donate the money saved to the well or match the price of two weeks worth of beverages other than water.
To reach the school's goal, every student would need to donate a minimum of about $3.50. Students seem more willing to buy a $5 drink at Starbucks than to go without for the good of someone else. Next time you're in need of some H2O, consider how weird it would be to not have easy access to water. You don't know what you've got until it's gone. You can visit thewaterproject.org to learn more about the organization, start your own project, or to donate.