It's Burning Down Under- Who's Next?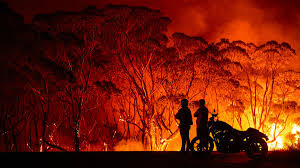 While temperatures rise and our ice caps melt, our world is faced with yet another climate problem: Australia is on fire. As temperatures rise yearly in Australia, they are often forced to deal with fires, but the ones that they have faced this year have been like none before. Experts are pointing to climate change as the sole cause, although many people are still reluctant to admit that is the case. These fires have killed over 20 people, damaged and destroyed thousands of homes, and killed millions of animals. Will nothing force the country- and the world- to face our climate disasters? 
     These fires have differed from those in years past for a variety of reasons. In short climate change. More specifically, the dry and hot weather preceding the fires not only caused a drought but also prevented back burning (controlled burning in the winter to help with the coming uncontrolled burning) could not be done to its full extent. The unpredictability of weather patterns also contributed to the size of this year's fire. 
     The massive size of these fires has greatly affected those living in Australia. Laura Shuman, an exchange student from Australia, says the biggest effect of the fires has been the smoke. "The capital city of Australia, a few weeks ago, had the worst air quality in the world,  surpassing manufacturing giants such as China and India. The health determinants were equivalent to smoking over four full packs of cigarettes in one day." Shuman, who lives only 15 kilometers away from the nearest bushfires, has seen family and friends forced to evacuate their homes. "It's really heartbreaking," says Shuman, "seeing the lives and things that bring these individuals joy [being] ripped away." 
     The world has had a variety of different responses to this climate crisis. Helen Haushka, a Junior and Member of Climate Action Club, says, "The world's reaction to the fires in Australia is not unlike how people have responded-or ignored- the effects of climate change." Many people have jumped at the opportunity to donate- in one way or another. One Instagram model that goes by "The Naked Philanthropist" raised 1 million dollars for the bushfires, in exchange for selling naked pictures of herself. In contrast, billionaire Jeff Bezos donated only $690,000 dollars to this cause. At Olympia High School, a table has recently been set up during both lunches, collecting donations for the bushfires. Haushka acknowledges that people have been donating and sympathetic on social media but she also says, "we should all go the extra step and change some habits in order to save- and have- a future." 
     Although you may think nothing you do in your daily life could affect the fires in Australia, it all comes back to climate change. In order to prevent the world's condition from worsening, be conscious of your carbon footprint. Reduce your meat intake, be aware of how often you drive, reduce your water use, etc. "Australia is a small scale version of what could be happening around the world," says Haushka. Climate protests are constantly taking place throughout the United States, and have recently been happening in Australia near the Prime Minister's residence. Protests are a positive way to spread the climate message, but won't be enough to tackle the climate problem. Although Australia is the one on fire right now, the impacts of climate change have only just begun.