The Rise of Small Businesses During the Pandemic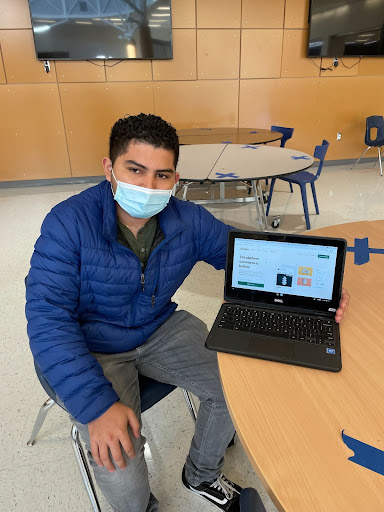 The COVID-19 pandemic has brought devastation to many businesses but at the same time has shown to bring a prominent rise of inspired people starting small businesses. These small businesses mostly consist of e-commerce shops using internet platforms such as "Etsy" and "Shopify." But what is the reason many people turn to creating and managing these small businesses, especially during a deadly pandemic? Kenneth Fabritius, Accounting Teacher at OHS, explains "there's enough evidence in history that'll show you that everytime there's a market downturn, businesses start to lay off people from work, and parents are losing their jobs in the pandemic and if people are not hiring, then the entrepreneurial spirit takes over and people start their own businesses."
Almost half a million new businesses have opened in the US during the pandemic according to CNBC and it looks like it won't stop anytime soon. "It's a super hopeful thing, when the economy tanks, you see the good in people when their backs are forced against the wall, and so they start their own business," adds Fabritius. Carlos Escobar, former owner of MiniCool and Junior at OHS, says "during Covid, I had way too much time on my hands so I thought it was the perfect time to hustle some money." Escobar is one of the million users on the popular website "Shopify" where users can successfully create e-commerce stores with ease. But with any business, the competition is harsh with statistics according to tako agency, proving that only around 10% of e-commerce stores succeed. MiniCool is an online shop that sells portable fans and cooling devices that Escobar used to own until he closed down. It has generated quite a bit of revenue making around 2000 dollars in profit. "I'm so glad this gig worked out for me, it was a fun quarantine project and I would 100% recommend this to anyone looking to make some money and learn business skills along the way," notes Escobar.
Buying from small businesses has also been very popular this year, with the prevalence of online stores and online advertisements on popular apps such as "Tik Tok" and "Instagram". Mainstream social media has made it possible for small stores to make a name and a reputation for themselves even if they're just starting out. This has also been the case for many small businesses in Olympia that have digital advertisements on their social media accounts. Many people also believe that supporting small businesses is a great way to support locally. Jacob Gronka, Junior at OHS, says "I personally think it's really cool. I just think it's nice to support businesses outside of big chain companies like Amazon." 
Supporting businesses locally has grown to be very popular after the first few stages of the pandemic when small businesses struggled heavily with restrictions but that has changed completely with statistics according to Bank of America 2021 Small Business Owner Report, showing that over half (60%) of small businesses expect their revenue to increase well over the next year. "Although, the pandemic and all the unfortunate things going on in the world, people have always found a way to help each other and that is a really good thing," states Gronka.