OHS Seniors Reveal Favorite Classes Throughout High School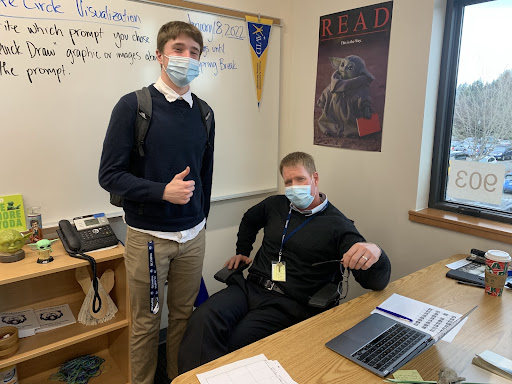 Nothing strikes fear into the eyes of an underclassman more than filling out the class selection form at the end of the school year. For soon-to-be seniors, this process is far more enjoyable. While many students worry about completing courses that improve their grade point average or hope to get certain teachers that they have heard good things about, one thing remains true: at some point throughout high school, you will likely take a class that you enjoy. With years of experience in selecting classes, we spoke with some of the seniors to get insight into what makes a class at OHS great. 
"My favorite class, hands down, has got to be AP Literature [AP English 12] with Mr. Bach," Caden Roth, Senior, says. "What I've enjoyed most about the class is the challenging atmosphere. I show up to class every day wanting to learn." Ava Wolin, Senior, agrees with Roth, explaining, "The thing that I enjoy most about AP Literature is the culture. I think Mr. Bach has cultivated an environment where everyone wants to think deeply and learn as much as possible." Roth adds, "I hold myself accountable to the best work that I can produce because there is a very high standard for work in the class." He says, "I would totally recommend this class to anyone looking for a fun challenge in English, and for a teacher who goes out of his way to help everyone be the best student they can be." Wolin concludes, "I would definitely recommend this class as it is challenging and thought-provoking, but not overwhelming."
"My favorite class I have taken is probably Comp Sci [Computer Science] with Mrs. Meaney," Max Marchand, Senior says. "Learning how to code was very fun and interesting, and I also had a lot of my friends in the class which made it even more enjoyable." Marchand urges students to take the class, as he feels it is an important skill to have for the future. "I would definitely recommend the class because it is a skill that everyone should learn, and it is definitely applicable to many careers and the real world." Gavin Pelton, Senior, liked his personal finance class with Mrs. McCauley the most, for a similar reason. "I really enjoy learning important things that I will use outside of school, and it's overall a fun class," he says. "I recommend taking this class because you will learn some really valuable life skills."
Everyone enjoys learning in different environments; some succeed when they have a lot of friends in a class, others like having teachers that push them to be their best, and many students enjoy classes that teach them important life skills. There are teachers and classes at OHS that work for students with each of these learning styles. One of the best ways to hear about these courses is by talking to seniors who have taken them.