Clubs adapting in this COVID climate – What's the difference?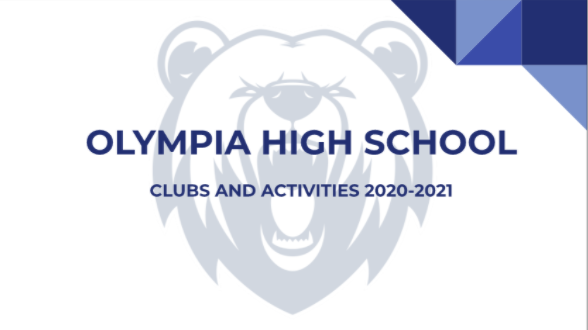 Traditional methods of meeting with clubs are thrown out the window. No longer can Film Club meet with its members face to face in a classroom to discuss films. Olympia High School boasts over 35 active clubs, seemingly one for everybody, but the Covid-19 pandemic has completely changed the way students and teachers alike participate in clubs. With the transition of school to remote learning, clubs have also found it necessary to adapt to the digital landscape, overcoming many hardships and finding new and resourceful ways to thrive in our socially distanced reality. The clubs at Olympia High School are extremely diverse, and as such, some have found better luck at the digital transition than others. 
     Bahar Bouzarjomehri, Senior and Vice President of Climate Action Club, gives her thoughts on the change. She notes that there are certain actions they can no longer take. For instance, they are unable to participate in "large marches to show [their] voice and power," or go on strikes at the capitol building. However, Covid-19 has not stopped the members of Climate Action Club from making their voices heard, as they were still able to "[testify] at Olympia, Lacey, and Tumwater city halls" over Zoom. Structurally, the club has become a lot more educational, with the members viewing a short video at the start of each meeting. 
     Bouzarjomehri states that there have been some improvements to the club since going digital. For instance, despite the setbacks of Zoom, the platform incorporates several features to re-create some aspects of learning in a classroom environment, such as the ability to "raise" your hand in the participants window and to go into breakout rooms to simulate small groups of students working together. Some clubs have utilized these tools to their benefit. Bouzarjomehri points out how "breakout rooms allow us to have these discussions" about climate change while also allowing them to become "more intimate." Another benefit is that it is easier for Climate Action Club to host guest speakers such as Lisa Parshley, an Olympia City Councilmember, over Zoom than in person. 
     Bouzarjomehri also expresses that being online "makes it easier for people to come…[and] gives more people free time, especially with Wednesdays being open," which is how Climate Action Club has seen an increase in members, with 20-30 students showing up to each meeting. 
     STAND (Students Together Advocating Non-violence and Diversity) has also seen an increase in members since the last school year. Matt Grant, Principal at Olympia High School and Advisor for STAND, attributes the increased interest in the club to recent events that occured last summer. The rise in the Black Lives Matter movement has made more people aware of social and racial injustices, leading students to join STAND to make a difference. Despite the restrictions Covid-19 imposes, the students involved in STAND have still been able to organize many Homerooms, respond to various incidents, and be more active on social media. 
     Merrick Arnold, Senior and Anime and Manga Club Creator and Leader, has also had to make some changes to his club to get it to function properly over Zoom. Arnold mentions that it "feels more like I'm guiding people, leading people," over Zoom, and "the biggest obstacle I'm getting across is people talking to people," a troubling scenario considering that an important part of clubs is the social aspect. In clubs, you are able to meet people who have the same interests and passions as you, allowing people to make many bonds and connections. Without as much cross-talk, some of the substance of clubs is taken away. In contrast to Climate Action Club, Anime and Manga Club has seen a decrease in members. Arnold believes this is due to a lack of advertising. In the school building, clubs could easily advertise themselves by hanging up posters in the hallways. Without this method, clubs will have to get creative with their advertising, perhaps turning to social media platforms or the Morning Announcements. Other difficulties Arnold has encountered include watching videos as a group and coordinating events. Arnold has solved these problems by having club members do more watching on their own time, and by using Google Currents to keep in contact with people. "It's encouraged me to look at other resources and other tools to use," Arnold states. 
     Film Club has also experienced some downsides and upsides to meeting over Zoom. Sam Hacker, Sophomore and President of Film Club, finds that although there are a similar amount of Film Club members as last year, it's more difficult to get members to show up. "You can't just walk into the classroom anymore," Hacker says. He's experienced trouble with starting the Zoom sessions, as the club advisor, Mr. Jacobs, sometimes has meetings that overlap with Film Club's start time. Despite this, Hacker has found that because on Zoom "it's not a fast moving discussion, we can get everyone's side of the story since there's a lot more time to think about what you're going to say," one definite advantage to online meetings. 
     While meeting over Zoom offers some advantages, they aren't enough to counter the realness of meeting in person. It is just that much harder to communicate effectively through a screen. Students in clubs of all sorts and sizes are looking forward to safely returning to in-person school, but until then, the students of Olympia High School have shown a great deal of resilience and resourcefulness when it comes to adjusting to this new world of digital communications.