Pull That Mask Up!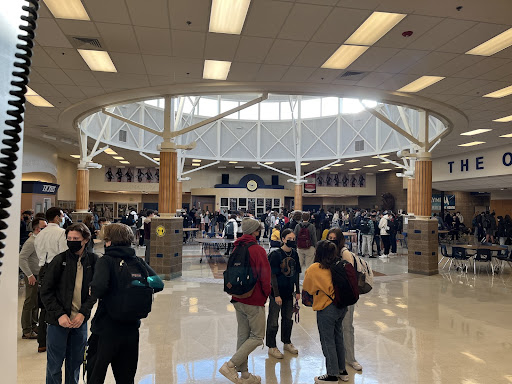 If one finds themself taking a gander at the hallowed halls of Olympia High School, they may find themself questioning the effectiveness of mask enforcement efforts. How exactly has the staff been ensuring that students follow guidelines? Well, Assistant principal Dr. Marco Viniegra explained that a lot of what the school has been doing surrounding mask enforcement has consisted of posters and signs around the school reminding students of the proper way to wear masks and information and reminders sent home to students and family via email. Viniegra says that he feels these methods have been effective and that he can comfortably say most students follow directions and fix their masks when directed to. He says that there have been a few instances of pushback from students and parents, but those incidents are few and far between. In terms of improving current mask policy, Viniegra said that "there is always room for improvement," but that according to Covid data, Olympia High School has been better than most other places in the area.
Librarian Stacy Udo similarly describes her mask enforcement methodology in the library. She says that if there are students in the library without masks or wearing their mask under their nose she uses gentle reminders of the proper way to wear masks. Udo says that she has never had an incident where a student has refused to wear or fix their mask and students are generally respectful when reminded about mask guidelines. However, Udo says that some points during the day, such as passing periods, feel uncertain at times. There are also moments at school sponsored events, like outdoor sporting events, where mask policies are unclear. She says that, because the events are outside, it is unclear whether onlookers and participants should be wearing masks, and that guidelines are not strictly enforced by staff present at the events. Udo says that there needs to be more effort from the school put into enforcing the current policy and clearer communication of the expectations.
Senior Clio Morbello, however, describes mask enforcement differently. She says that "[teachers] have said you have to wear [a mask] over your nose but I've never actually seen a teacher call out a student." She says that this method is not effective at all. Morbello wishes teachers would call out students that are wearing masks incorrectly and that expectations and consequences were more strictly enforced by staff.