An Elective for Everyone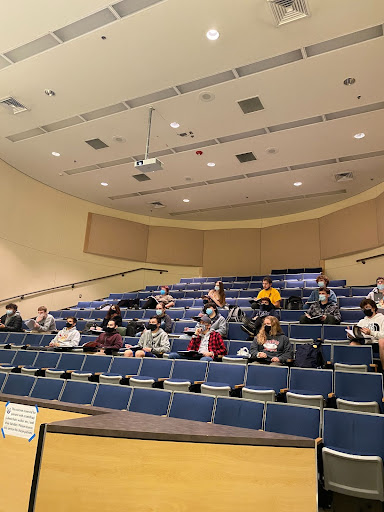 At Olympia High School, the wide variety of Senior English Elective courses gives students control to pick what they want to be learning. Timothy Snodgrass, Science Fiction and Fantasy and Satire Teacher, has "students who follow the honors track through the first three years and they say 'I don't want to do another timed write response ever in my life.'" For students who don't have an interest in taking the AP Literature and Composition class, there are several unique options. 
Carolyn Gilman who teaches Creative Writing shares that her course, "is rigorous because writing is hard." However Gilman also notes that in her class, "they will not be writing any 5-paragraph essays [and] they will not be reading any novels." 
In Film Literature, students learn how to "speak the language," and imitate techniques/styles they see in movies. Eric Jacobs, Film Lit. teacher shares that, "I often have students come back and say [they] don't watch movies the same anymore." 
Jacobs, proposed a Film class at another school he taught at before OHS and he shares that, "what I was going up against I thought were assumptions of what a film class might look like, which was a more negative perception: put in a movie every single day and don't really do anything." While you watch up to 12 full films and countless film clips in this course, students are closely studying the films as they watch.
Oliver Kramer is a senior Creative Writing student who says, "it's nice to be able to write about a variety of topics" in this course.
Journalism is another elective option for Seniors. In this course students learn to write in the journalistic style and work to produce the school newspaper.
Snodgrass is the teacher of two senior elective classes: Satire and Science Fiction and Fantasy. In Satire Snodgrass claims that students will come away with, "the ability to read things less literally," through the study of political, literary, war, and science fiction satire pieces. Science Fiction and Fantasy is a class that was just introduced at OHS three years ago after students demonstrated an interest in it. Snodgrass shares that in this class time is spent looking at thematic ideas throughout science fiction. Aliens and extraterrestrials is an entire unit of study for this senior elective course. 
Student interest is what drives the implementation of these courses: Science Fiction and Fantasy being a perfect example of that. A Shakespeare class was offered at one point but was cancelled due to a lack of student interest. In the future, this class could potentially be re-introduced or a brand new course could be developed, depending on the desires of the students. Snodgrass believes the question that rising seniors should be asking themselves is, "where are you in terms of what you want your senior year to be?" when picking out their English classes.