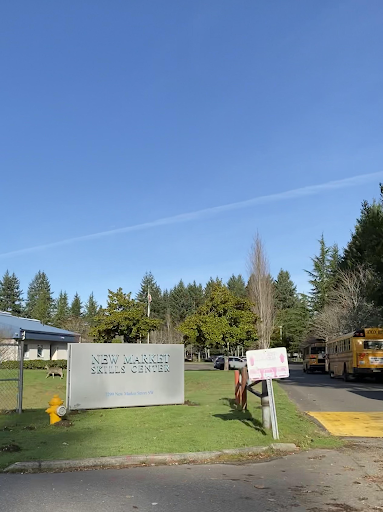 There are other non-traditional pathways that students are able to take during the course of their high school studies that offer other ways to fulfill graduation requirements. One of those ways is to be enrolled in a skills school called New Market. At New Market Skills Center, junior and senior students from local school districts are able to go through the enrollment process and find a program of their interest. Students at the school receive hands-on training and developing skills to further their abilities to successfully enter the working environment, and are able to earn scholarships and internships within the program. Matt Whitmire, Student Counselor at Olympia High School, speaks about the Olympia High School side of the enrollment process and about students. 
"They can fill out an application from New Market, once they're accepted I get the acceptance email, and then we have the student attend half-day here at Olympia and half-day at New Market." The counselor's side of this is simple, they only have to approve the requested email, given after New Market approves the student. 
Brooklyn Adragna, Senior at OHS and enrolled in New Market, says, "[New Market] helps me get through my day better because I'm actually learning and doing things that interest me, it's given me the opportunity [for] jobs in the field." Students learning at New Market develop their skills working hands-on with people in the field of each program. They learn how to further their education and learn about what opportunities they can accomplish post-high school. As they're able to earn certifications, college credit, AP credit, internships, or earn an entry job in the field, students can be trained professionally by educators that have worked in that job. Whitmire speaks about how, "there's a sustainable percentage of students that enjoy hands-on learning instead of in traditional classrooms. Students want to be able to work right away, a lot want to begin formal studies of what they see as their career as early as they can." Jade Williams, Veterinary Technician Manager and Teacher at New Market,  says, "New Market is an employability driven school, so the classes simulate a working environment, allowing students to do what they are interested in, and find out if it is the career path they want to take." As New Market is an employable school, there are opportunities for jobs right out of the class, because students are then certified and have the skills and capabilities for working right out of high school.
At New Market, students are eligible for scholarships, certifications, and internships. They're able to earn internships, as well as students get certifications by showing their competency. Internships and job-shadowing are available for students that show interest in the program that they study at the skills school. "Students gain knowledge and practical skills that will allow them to go to work straight out of high school in a high demand field. Students have the opportunity to earn both high school and college credit, as well as explore working in the field with a minimum 20-hour clinical internship," says Williams.
The programs at New Market open up a wide variety of opportunities such as seniors being able to earn scholarships, certifications, and job internships, and recommendations from mentors and teachers. As a teacher, Williams says that she's contacted by Veterinary clinics to have recommendations of employment while she reaches out to them to have students job-shadow and take an internship to learn in-person. This skills center allows students to be able to learn about different types of career fields and earn the entry-level to those careers without cost.