P.E. Club Starts Sucessfully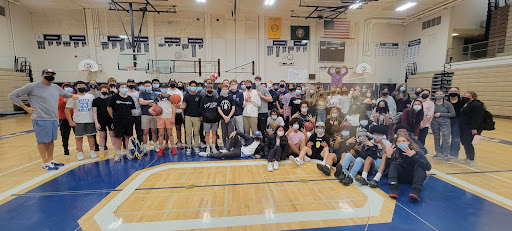 The underground basketball gang has been shut down! Olympia High School provides a variety of different clubs to its students, but there aren't any clubs focused on physical education and team sports. Before the pandemic, students could play table tennis during lunch, which became very popular among students. The growing interest in this game resulted in the creation of the Ping Pong Club. This club lasted a couple of months, until the announcement of the switch to online school. Ever since school went back to being in-person, students have been encouraged to visit a club during Beartime, but some students chose to just go to the gym and play basketball until they got kicked out. As the number of people who would try to stay in the gym for Beartime increased, PE Club came into existence. During PE Club, most boys play basketball and most girls play volleyball. If neither of these options interest you, you will have to walk around the gym and stay active. 
Students who are not failing any of their classes can come to the gym and participate in physical activities. Daniel Mills is a junior at OHS, and he attends PE club every other week. "I really like that we have an option to run around in the gym for Beartime, it really adds a needed break in the middle of the week." In PE Club everyone is welcome to participate, whether or not they want to compete in team games. "I'm not the best at basketball, but I enjoy running around with the boys and getting a couple baskets here and there," Daniels says.  Although not everyone who plays basketball in PE Club is baller, there are people who come on the court ready to dominate. Anthony Gelencer is a senior at OHS, and his friends know him for his sharp accuracy from beyond the 3 point line. "I like that I see new faces when I play basketball at Beartime," he says.  The basketball community in Olympia is split between YMCA, LA Fitness, and The Valley, so it's uncommon to see everyone come together in one gym. Both Anthony and Daniel enjoy PE club, and they understand that for PE club to exist, students must behave in the gym and treat it like a classroom.
The coordinator of this club is John Gerrits, who is a physical education and leadership teacher at OHS. John Gerrits, holding the position of a physical education teacher, feels that it is important for teens to participate in physical activity, so he volunteered to supervise the PE club for Beartime. "The gym is open for not only my students, but for anyone who wants to come and participate," said John Gerrits. He sounded very motivated to offer the best experience for everyone who joins him for Beartime, "After the second period I come in the gym and set up the basketball goals, the volleyball nets, and bring out the balls" Gerrits explained.