DECA Internationals Brings a Good Time Home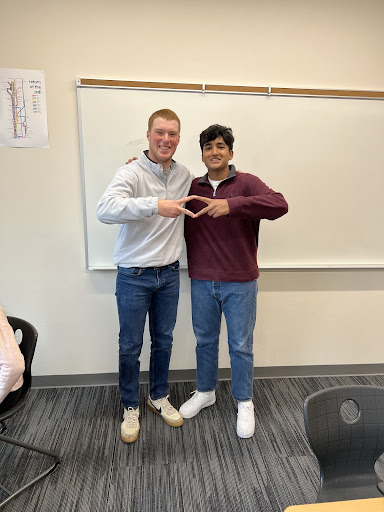 The Olympia High School DECA chapter took 7 state qualifiers to compete at the international level in Atlanta, Georgia. Although there were no titles brought home, the chapter still enjoyed their time in Atlanta exploring the history and culture of the city together. 
DECA Adviser, Jennifer Fabritius, took the team off on a red eye, starting their adventures early in the morning right off the plane in Atlanta. For long-time competitor Emma Bonbright, it was her "first time ever flying." Bonbright placed individually to go to Internationals the previous year, but due to COVID, the competition was online. In person this year, with her partner Sarah Boatright, the two competed in the Student Based Enterprise. SBE is a project where they wrote about and presented in-depth the operations behind the OHS Bear Den. Fabritius spectated the presentation of their project multiple times as practice, noting that "there was nothing for them to fix, everything was perfect down to the detail." 
The students first had to take tests for each of their events, evaluating their knowledge on business topics such as marketing, human resources, and finance. "It was all very formal and even on a Scantron," said Dan Sunchu. Sunchu competed in Human Resources, where he was presented with a management issue and had to come up with a resolution before a judge. All members had a time for testing and presenting to their judges. Seniors Gabby Sacks, Harper Gould, and Kiani Wellner covered the OHS Bear Den Bearzaar for their Sales Project, and Junior Gabe Kane competed in an Integrated Marketing Campaign project. 
Beside competition, the chapter found the city in itself very enjoyable. They spent a day at the Coca-Cola Factory where Sunchu "had quite a time taste testing all the flavors the company has created over the years." Much time was also spent in the Mercedes-Benz Stadium, where all workshops, sessions, and opening/closing ceremonies took place. Members also commonly hit the Georgia Aquarium and Six Flags, and ventured around the area as the surrounding attractions were reserved for all DECA competitors. Students came from all over the world, from places like Guam, Canada, and Korea. A tradition each year, "the kids are given a bunch of pins to represent their state/country and they have a blast finding others from different places and trading," says Fabritius. Students go as far as bargaining and paying for other items such as hats, scarves, and even light up swords with their homes' names on them. 
An eye-opening moment for the whole chapter took place at the childhood home of Martin Luther King. On the bus to a different destination, they accidentally got off at the wrong station and decided to just walk the area. As they were exploring, they came across the neighborhood where King used to live and his home. "It was such a nice moment just stumbling across something like that. We learned a lot more about him and the civil rights movement while we were there and it was definitely an educational experience," says Wellner. King's home was a common favorite part for all members of the chapter, as each felt the coincidental discovery and greater knowledge of the history was impactful. 
The trip did have to come to an end, as the chapter headed back home during the week. A last moment of fun took place on the plane ride. Flying back with other Washington DECA members, "lifelong friendships were made," says Sunchu. "We stayed in a hotel with all members of the state and it was great. On our way back we sat next to some friends from Seattle and talked, joking around and having fun. We'll be keeping in touch, everyone was awesome." Despite not taking home a win, Olympia DECA took home a good time.