Knowledge Bowl Knows What to Do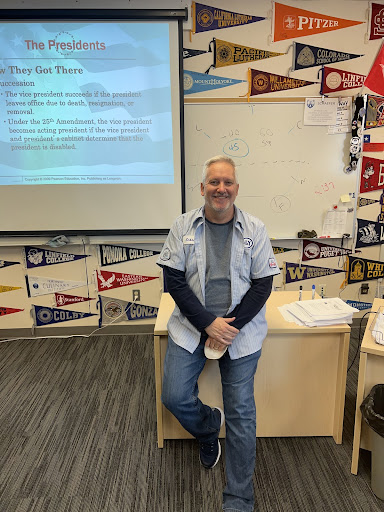 Every year, Olympia High School takes part in countless academic competitions, one of these being the Knowledge Bowl where Olympia was able to snag first place at the state competition. Knowledge Bowl is a quiz-type competition covering all sorts of topics from English, literature, math, and science. Olympia High School found huge success this year. Michael Schaefer, Co-coach of the OHS Knowledge Bowl Team alongside Timothy Snodgrass, says "OliGarchy won the state championship by defeating Bellarmine Prep (2nd) and Central Kitsap in the finals." Oligarchy is Olympia's senior A team consisting of Michael Zhao (who focused on art/history/French), Gabe Ong (focused on math/science), Jackson Philbrook (covered science/history/English), Sam Byrd (covered history/current Events), and Evan Glasgow (who focused on everything else). 
The OliGarchy wasn't the only team that found success. Schaefer says that "both BrocOly and AiOly placed ahead of Bellermine at the regional tournament." Unfortunately though, "only our top placing team moved on to state," but it is no doubt that both the B and C team have found great success at the state competition. This year was another successful year of Knowledge Bowl competition supporting the legacy of greatness that the Knowledge Bowl team at Olympia has created.
Luckily, the Knowledge Bowl team looks to have just as bright of a future as its past. In the past 40 years, Olympia has "won 9 state championships and placed at State all but 6 years," says Schaefer. Schaefer also believes that although "we are graduating our top two teams, we have a very solid core of returning members including the all freshman team AiOly." One of the graduating seniors, Evan Glasgow, has been in the Knowledge Bowl since sophomore year, and was able to bring home the state championship this year. "My favorite part of KB (Knowledge Bowl) is the practices. We always have a good time, we don't get very competitive, and oftentimes we get distracted," he says. That being said, it has not impeded the teams ultimate success in any way.  Schaefer feels similarly about the team as a whole. "We have a lot of fun together testing learned knowledge in friendly competition," he says. 
Michael Zhao, Senior at Olympia High School, feels very similar. He finds that "the beauty of Knowledge Bowl comes in the name itself: knowledge!" and loves that "there are so many interesting topics, facts, and ideas that come up during the competitions."