OHS and the Cosplay Congregation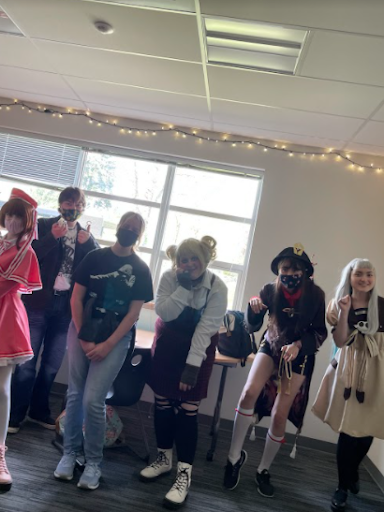 Olympia High School had a new club form in early 2022, the Cosplay club, with Freshman at OHS and president of the club, Hannah Bartley. With advisor Mr. Justice, this club currently exists with five members. These students dress up in costume, their form of art, and talk about the things they enjoy about their passion during their club duration. Over friendly conversations and arguments, they discuss their dedication to their craft and other enjoyments in their life.
Bartley has been into cosplay for a little bit over a year now. Bartley embraces her creative side, loving the fact that Cosplay gives her freedom of a very new form of expression. "I love getting crafty with styling wigs and making costume pieces." With the fact that community comes with Bartley's passion, a community that Bartley loves for always being there. Bartley founded this club to make a "positive environment where students with the same passion could come together to share ideas", along with hanging out with other cosplayers. Bartley wants people to join for the fun conversations and simple activities they host. Even though Bartley understands they are just getting started as a club, she looks forward to growth in the club and other, new cosplayers joining.
Sammy Hoisingtion, Freshman at OHS and Club Executive, just recently started their Cosplay passion. Hoisington recently pursued her passion for this art, drawn to it for the fact that they can have fun creating costumes centered around their favorite characters and shows. "I thought it would be fun to make some new friends through something we all have in common," stated Hoisington, about her desire to join the club. Hoisington loves the space that the Club has created, a friendly area with a bunch of positive people who discuss their passion and having a "freedom to connect with others and just relax." And while some people may be unfamiliar with her passion, Hoisington wanted people to know that "it allows people to connect with their favorite characters on a whole new level."
Cosplayer and Club Executive Kalypto Bolender added on with her thoughts. Bolender, a cosplayer who will have been doing cosplay for two years in august, explains that cosplay is a great thing in their life. Bolender stated that Cosplay brought a new sense of positivity and confidence that didn't exist before for them. "I realized I had been cosplaying for awhile, but I really wanted to be part of the community," Bolender said. Bolender wants people to know that the cosplay club is a great space, a wonderful community, and friendly to all, because, "Everyone is welcome as long as you truly want to be there."
The Cosplay club, who meets during Bear Time A in Room 001 (near the front entrance and attendance office), is welcome to all and would be glad to have anyone join.