Celebrating Seniors' Post-Graduate Plans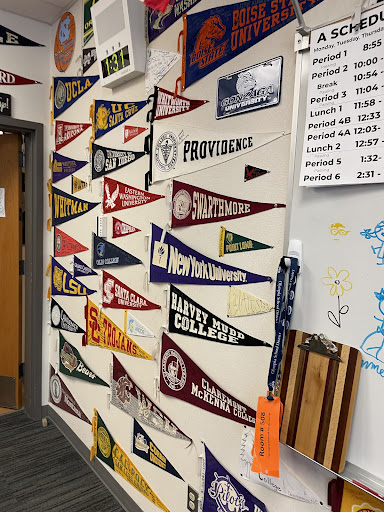 As each year comes to a close, Olympia High School celebrates its seniors and their success in establishing their post-graduate plans. Students pursue many different paths, whether it be a 2 or 4-year college, trade school, the military, or a gap year. Teachers uphold many traditions of showcasing their seniors and where they plan to be. 
Kristen Soderberg, English and AVID teacher, allows every AVID student to "complete a "Next Year Pennant" to put up on the classroom wall and present to the class. The idea is for each senior to have a 13th-year plan and be proud and confident about their next step after graduation." With COVID, this year's graduating class has experienced much adversity, but remained resilient through the last stretch of high school and figuring out what they hope to do.  Soderberg is "so very proud of [her] seniors for not giving up and for staying on track academically over the past couple of years. These students had persevered through so many obstacles, and continue to move forward in order to reach their future goals and dreams. I continue to be inspired and amazed by their compassion, intellect, kindness, and willingness to want more out of life. I always tell them, "The Best is Yet to Come.""
Maps are common among teachers and students to provide a visual representation of the places near and far from Olympia where students end up. Josh Wodka, Senior, draws and updates a map for those in the Student Store. "It started out putting our names with little dots in the places we soon hoped to be and now it's all becoming a reality. Seeing my peers off to amazing schools and turning their dreams into a reality on that map brings me so much joy," says Wodka. 
Paul Rae, Math Teacher, puts up a map of the US and Washington in his classroom. When he came to OHS, he wanted to use the maps so everyone "could make flags and see where our classmates and friends were headed after graduation. I wanted to make sure we could recognize what a huge impact OHS has on the country by spreading graduates out all across the nation. It has been fascinating to see how far, and not just in the USA, our graduates go once they leave. I have had students put up extra maps of other countries like Costa Rica, France, and Scotland." Rae "loves being a part of the celebration for our seniors. This represents the culmination of 13 years of work in the public school system and it's great to be a part of it. It also leaves me feeling positive and confident the future is in good hands with such amazing young adults heading out into the world. If I'm being honest, I'm also sad to see [everyone] leave because I genuinely like all of my students and I will miss everyone next year." Senior Ryan Ericson, who will be putting his flag up at the University of Washington, says "It's nice to know just how diverse of a college selection Rae's students have."
Michael Schaefer, Civic and Government teacher, holds classes of majority seniors. The walls of Schaefer's classroom are lined with pennants of hundreds of colleges and universities across the country, given and signed by those who end up attending where they do. Each year, Schaefer has a signing day where students are able to bring their pennants, put them up, and sign their names to establish where they are going. Senior Lucy Peters says "Schaefer's wall is filled with so much of what people amounted to do, and I can't wait to put myself on that wall and show what I've been able to accomplish at OHS." Seniors will also be able to put their names under signs in the commons, indicating that they will be attending the poster their name is under. Each year, the commons' walls are filled with everyone's post-graduate plans as ASB puts them up.