OHS Sad To See Steen Retiring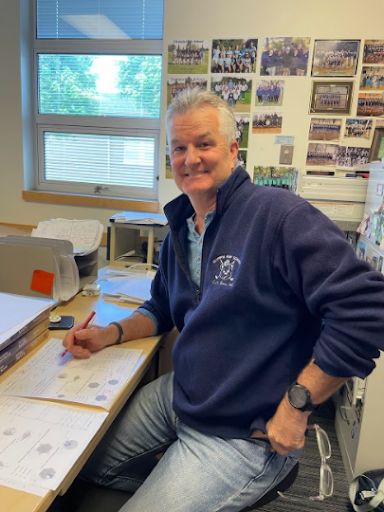 Long-term Math Teacher of Olympia High School Michael Steen will be retiring at the end of the 2021-2022 school year. Steen, a teacher for many years in the Olympia School District, beloved by many, is a staff member many will be sad to see go.
Steen taught for a total of 35 years, 20 of which have been at OHS, and coached both golf and basketball for 36 years. Steen has greatly enjoyed working in the halls of OHS, and loves the community that surrounds the school, stating how positive everyone can be here, and how wonderful it is to work in a community that he lives in, knowing some students just as neighbors from down the road. Steen loved his coaching experience too, throwing in how "awesome" it was to coach the people through the years in basketball and golf. Steen will miss the classroom though, in seeing "kids make progress. It's great seeing the lightbulb turn on in kids' heads." Steen wishes that students see him as being "a fair teacher, but with high expectations." In retirement, he plans on traveling the world. He has an agenda of going to Bali, Norway, Costa Rica, and Utah, among other places. Steen wants students to remember that they must be kind and polite to each other, hoping to see more of that in the kids around him.
Joanna Yan, freshman at Olympia High School, is sad to see Steen going. Yan has known Steen since August of 2021, meeting him as her golf coach. Yan emphasized how Steen was a wonderful coach, stating how he "is inspiring and patient. He's very experienced and I've learned so much." Yan has many fond memories of Steen, including one from a golf tournament just this year. "He encouraged me because it was my first tournament, and I thought it was really nice of him to spend time with me and put in effort to help me play better." Even though Steen will be leaving, Yan wishes future students could have known Steen for his kindness, his exceptional teaching, and wonderful coaching.
OHS freshman Colin Danielson has greatly enjoyed his time learning from Steen. Danielson states "Mr. Steen is a really cool dude who really is able to get any willing kid to pass." Danielson always enjoys Steen's in-class fights with his electronic whiteboard, talking about how comedic it gets when that happens. Danielson had a very key thing that he liked most about Steen. "The thing I appreciate most by far is the fact that he truly wants each kid in his class to succeed and pass," and how he is "the best math teacher I've ever had so far in my years of school." 
As the year closes out, many people will miss this great math teacher, one that will not be forgotten for both his teaching career, his sports coaching, and his lifetime of goodwill towards the community.