The Kabat Habit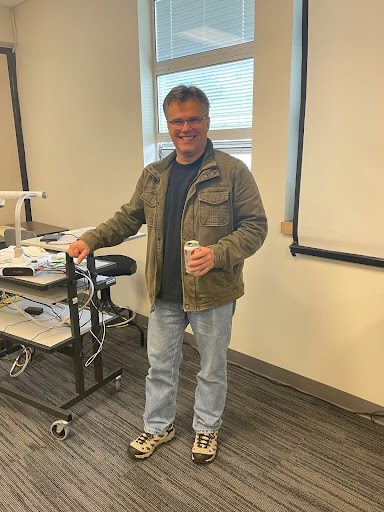 Brent Kabat is a U.S. History teacher at OHS with well over 20 years of teaching experience. He teaches AP U.S. History as well as the regular U.S. History class. Although Kabat originally went to college with the goal of becoming a newspaper reporter, he soon dropped out, and instead he got a job as a trainer to teach computer usage. "In the 90s, computers hadn't quite gotten into all businesses yet, then they started to come in and nobody knew how to use them, but…like a lot of younger people, it made sense and I could make computers work," explains Kabat. Along the way, he found out that teaching people things like how to use computers made other people happy, which motivated him to pursue teaching. "I didn't want to spend 20 years teaching computers, I knew I wanted to be a teacher and I've always loved history so I went back to college and got my history degree and education degree and that's been the way ever since," Kabat remarks.
Jacob Rafeh, junior at OHS, takes Kabat's AP U.S. History class. He describes his experience with Kabat as "very positive. He's a super energetic guy and makes the class engaging. He always helps me answer my questions and the work is always interesting," Aislinn Canfield, junior at OHS, takes Kabat's U.S. History class, "I enjoy his class although the work is difficult sometimes," says Canfield. Students often notice Kabat's habit of drinking Diet Coke. "He's got a strange thing for Diet Coke though. I counted like 12 cans in there the other day," notes Rafeh. "Yeah, he's definitely got a strange addiction to Diet Coke, he also occasionally drinks sparkling water too," remarks Canfield.
In regards to his classroom style, Kabat states "My class is like having students see a reason why things are the way they are and see things evolve through history. I give them the same problems that people like Benjamin Franklin and Thomas Jefferson were facing and make my students solve them without looking it up or using what they used. Having them wrap their brain around the problem for an hour helps them know the problem and they realize it makes sense," explains Kabat. "When I teach history, they're going to know why things happen, not that they happened." Overall, Kabat is a very excitable and well-loved teacher at OHS, Diet Coke addiction and all.