Java to die for at Burial Grounds
Burial Grounds Coffee Collective, located on 601 Capitol Way South, is a small, mellow cafe in Olympia, Washington. With their friendly staff, delicious drinks, and homey decor inside the shop, they are undeniably one of the best local shops in Olympia. The cafe provides face coverings as they are required to enter the building.
While at the cozy corner cafe, Devil's Lullaby and the Persephone were the drinks of choice. Both drinks were twelve-ounce specialty espressos. The drinks were $4.95 each, including the seven percent student discount. The regular cost without the discount is $5.50 each.
Devil's Lullaby, which is made with peach, rose, cupcake, and an earl gray tea infusion is the perfect drink for a chilly fall day. The peach and rose both come through very subtly, but still give it a light tanginess. All of the cafe's specialized espressos are topped with beautiful latte foam art which are made by the staff themselves, typically in "gothic" designs such as skulls.
The Persephone, which has rose, creme de cacao latte, and a lapsang infusion, is a specialty espresso. The taste has a perfect amount of sweetness, with hints of lavender. The espresso comes with latte art on top shaped to look like Persephone, queen of the underworld.
Cory Doerscher, co-owner of the collective, says that the cafe has made over six-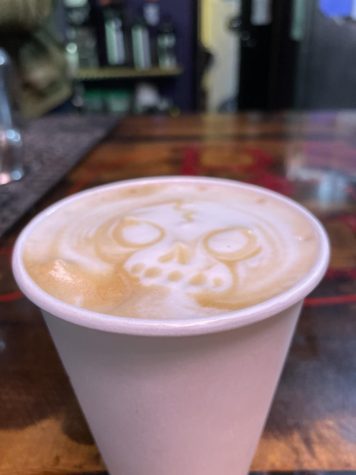 hundred unique secret drinks, during their eight or nine years of employment. They said their personal favorite drink is Melange, which consists of creme de cacao, nutmeg, ginger, cinnamon, allspice, and is a specialty espresso.
The cafe owns vegan alternatives for certain ingredients and serves vegan cakes and empanadas. Along with that, every drink in the cafe can be made dairy free if requested. Doerscher says that the cafe takes recipe requests, "Sometimes people will put together their own drink and just keep ordering it and eventually we're like alright, we're naming that after you."
Colin Bartlett, a co-owner of the collective, has been employed at the cafe for the same amount of time as Doerscher. Bartlett says his favorite drink is Godmother Knight, which tastes like "haunted forest candy." Although, he stated that Vegan Chai is the all time favorite, he agrees that the F*** This S*** Mocha may also be a consideration for the customer's favorite drink because they enjoy swearing at the counter.
Bartlett and Doerscher, who were both couch surfing before their employment at the shop, spent extended periods of time simply hanging out and drinking coffee. "It was a place that treated us like people even though we didn't always have the money to pay for the experience of being a human." Bartlett reminisced.
View Comments (2)