Pizza Klatch reborn at Olympia High School
As of this September, Pizza Klatch has returned to Olympia High School every Thursday at first and second lunch. The Klatch meets are held in room 408. For more information, check out the posters that are posted throughout OHS.
Never North, programming co-director of Pizza Klatch, states Pizza Klatch was formed in 2007 and has been running for about 15 years now. Since the start of the organization the Co-Director Never North states they have seen direct benefits from the meetings that she has attended.
"Youth comes in feeling lonely, but by the end of their first meet or so they were beginning to come out of their shell, hanging out with others even outside the Klatch on weekends," North tells us.
In charge of the survey results, they say LGBTQ+ youth and allies look forward to Pizza Klatch, it has helped many deal with trauma and helped rates of suicide and self-harm involving LGBTQ+ youth go down.
However, some may worry about the potential risks of bullying for participation in Pizza Klatch. This is why Pizza Klatch does its best to stay 100% anonymous. The actual Klatch itself is designed to be a safe space for LGBTQ+ Youth and allies. They host daily check-ins with the participants, and sometimes the mood in the Klatch can vary from day to day depending on how the students feel.
They actually do not have any premade rules, the Klatch collectively decides on a list of rules that the entire group agrees with collectively.
Pizza Klatch does, of course, offer free pizza to those who attend the Klatch. However, they do have a limit on how much pizza they can provide because the organization has to also supply for other schools, not just Olympia. They only offer the two standard flavors, Pepperoni and Cheese, but North added she wishes they were able to offer more variety.
North said, "Pizza Klatch is a support group for LGBTQ+ youth and allies, but you yourself cannot define yourself as an ally. It is shown through your actions and it is defined by LGBTQ+ people, meaning non-homophobic straight people cannot just go into Pizza Klatch and eat free pizza, you know? It's still supposed to be an anonymous support group."
Leave a Comment
About the Contributor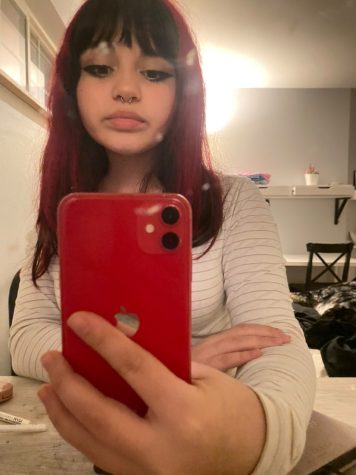 Madilyn Reiman, Journalist
Madilyn Reiman is a journalist and photographer for Olympus. When she's not working for The Olympus, she enjoys spending time with friends and family and...