The Coal Hard Truth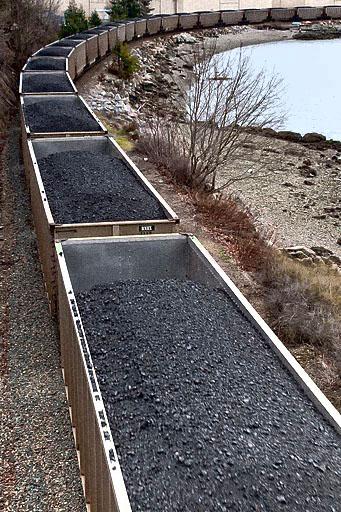 Hang on for a minute...we're trying to find some more stories you might like.
Truth is terrifying, but the people who disregard the truth are worse than a nightmare. The coal companies of Peabody, and Goldman & Sachs, are trying for a permit to transport over 200 million tons of coal through Washington State by open car trains. This would cause many negative environmental, ecological, and health impacts on the Northwest community, including pollution of the air, water, food sources, and causing up to two hours of traffic each day. Washingtonians have a choice, keep stepping forward to a greener future or get dragged back into the dark ages where they would obtain no benefit.
Each company is applying for permits to transport over one hundred million tons of coal by trains with open car containers through our precious ecosystems and our cities. Communities such as Bucoda, Tenino, Bellingham, Nisqually (including the Nisqually Delta Habitat), East Olympia, Grays Harbor, will have to endure up to 20, one and a half mile long trains blasting by their neighborhoods and elementary schools everyday if Peabody and Goldman and Sachs get their permit approved. Citizens will have to wait up to 10 minutes at every railroad crossing that the coal trains cross. Put together this means that each crossing will be closed for two hours every day, causing traffic and the delay of medical service to people in need. These trains will also minimize the Amtrak transit service, due to the lack of space on the railways. By diminishing public transit the carbon footprint of the community will rise sharply. (Taking a step backwards in decreasing our carbon footprint)
Clogged road and railways will not be the only affects that Washingtonians feel if Peabody and Goldman & Sachs obtain the permit. The renowned evergreen forests, clean air, and water of the Northwest will be under threat from toxic metals and pollution from the 3000 coal trains that travel through each year. Every train is proposed to have 125 open top coal cars, a study done by leading environmentalists state that up to 500lbs of coal dust is lost en route (from Montana or Wyoming to Washington coast). Multiply one pound by 125 and then by 3000, that is roughly the amount of coal dust that will layer the tracks, coat the walls of our schoolyards and filter into the air, water, and food supplies of the Northwest.
"The wide ranging health dangers of coal dust include exposure to toxic heavy metals like mercury…" Powerpastcoal.org, an organization dedicated to eliminating coal as an energy source. In any quantity mercury poses risk to human, wildlife and environmental health, the Uncontrolled Release of Dental Mercury (URDM) classifies it as "a volatile heavy metal that can be easily and rapidly released into the atmosphere". Mercury "Causes damage to the central nervous system, immune system, liver, kidneys and is particularly dangerous to fetus' and young children" URDM. The Center for Disease Control and Prevention did a study in 2001 which indicated that one in 10 women of "child bearing age" is exposed to levels of mercury that are considered harmful.
The proposed exports would not only affect WA but the entire planet would have to pay a heavy price. Coal is the dirtiest fossil fuel. The coal will be transported and exported through our state and is going to be shipped on  "200 of the worlds biggest, and most accident prone ships to China," reports Powerpastcoal.org. China plans on burning the coal to support their growing economy. With over 200 million tons of coal just from Peabody and Goldman ad Sachs, they will produce 199ppm, which is 55ppm more than the Keystone XL pipeline would emit (144ppm). Ppm is a unit of measurement that is used to measure the parts per million of CO2. Leading climatologists have stated that 350ppm is the designated safe amount of CO2 in the atmosphere; in the year 2012 there is already 392ppm of CO2 in the atmosphere, which is 45ppm over the selected amount. As mentioned by 350.org, (a website that is used to spread awareness about the rising amount of CO2 in the atmosphere), "Unless we are able to rapidly return to below 350ppm this century, we risk reaching tipping points and irreversible impacts such as the melting of the Greenland ice sheet and major methane releases from increased permafrost melt."
Who benefits from this unredeemable energy? Not Washington. The people, wildlife, environment, and economy of Washington State would not benefit in any way.  As of 2012, Washington is ranked as third in the country for having the cleanest state and business. Leadership in Energy and Environmental Design (LEED) is a system that "provides building owners and operators with a framework for identifying and implementing practical and measurable green building design, construction, operations and maintenance solutions" U.S. Green Building Council. With LEED's help Washington is shutting down its last coal power plant; the Centralia Coal Plant in 2011, effectively cutting coal out of the Northwest. Olympia has taken its own steps to saving the planet by constructing numerous public buildings that also follow the LEED design, including, the Olympia Fire Station 4, the Farmers Market, the new City Hall, LOTT, and the new Children's Museum. Why should the Northwest risk running backwards, by endangering everything that they have already worked for?
If you are against coal trains charging through your community, putting your friends family and environment in danger please call,
State Commissioner of Public Lands (Peter Goldmark) at, 360-902-1004 and say, "Please don't use Washington's public waters for coal export."
Thurston County Commissioners (Cathy Wolfe, Karen Valenzula, Sandra Romero) at, 360-786-5540 and say, "Please ensure that the impacts of the transportation of coal are fully studied and our country is protected."
Governor Christine Gregoire at 360-902-4111 and say, "Please ensure that Washington says NO to coal and YES to a clean energy future."
There is also a sustainability summit at SPSCC on April 14th by David Cortin that is open to the public.