Lang's Superbowl Breakdown!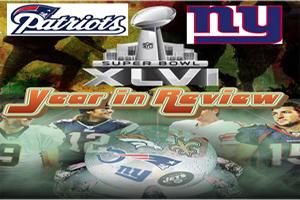 Chris Lang
February 3, 2012
Hang on for a minute...we're trying to find some more stories you might like.
Breaking ALL predictions, this year's Superbowl will have the New England Patriots take on the New York Giants in a grudge-match that harkens back to Superbowl 2007, when the Giants beat the then-undefeated Patriots.
The road to the Super Bowl this year has been one of the most exciting in history, building up to the greatest sporting spectacle in the world! The Super Bowl is the most watched single television event in the world and could be the most anticipated Super Bowl EVER, and so garners the most annalysis and predictions from analysts and so-called experts. But this year, the analysts got it all wrong.
The Patriots' controversial loss to the New York Giants in 2007 sprung Quarterback Eli Manning's career and stopped a perfect 19-0 season for the Patriots. The controversy speculated that the referees had stopped the clock at times that were against the NFL rules and regulations of the time, which allowed an extra minute and twenty seconds for the Giants to come back and score the game winning touchdown and beat New England. This has probably fired up Patriots fans for another chance to get back at the New York Giants on the biggest stage in sports.
One of ESPN's analysts shared his predictions from before the season, compared them to what actually happened and displayed how he got nearly all of his predictions wrong. So, I'm going to share my own predictions from the same categories that he did at the beginning of the season. Here's a fun way to look at what a crazy year it was in 2011 for the NFL. Give yourself one point for each one that you get 100% right and .5 for every one you got mostly right, but if you get it wrong put zero.
The scoring scale:
35-46 correct answers — Bill Belichick invites you on his boat to watch game tape.
25-34 — You get to make a pick for the Green Bay Packers in the upcoming draft.
15-24 — You wear thigh pads to work and smear on eye black.
5-14 — Your mom knows more about the Cover 2 than you do.
0-4 — You watch National Geographic documentaries on earthworms on NFL Sundays.
1. AFC East
What I wrote back then …
(Order of finish)
1 New England Patriots – With a strong regular season last year, I don't think there is anyone from the AFC East that can even match up to the Patriots. The only thing I'm worried about for the Patriots are the playoffs, but that's not till January.
2 New York Jets – I wouldn't be surprised to see the Jets make a run against New England since they did finish off the season pretty well, but I just don't know if Mark Sanchez is going to be able to pull his team ahead of New England.
3 Miami Dolphins – I wish I could have picked the Bills, but I don't really see any hope for Buffalo this season. The Dolphins have some great players on defense, but with as poor of an offence and Miami has, I would not even joke about Miami getting to 8-8.
4 Buffalo Bills – They are just the worst team in this division. I'm looking at a rough season and they'll probably fire their coach after such a poor season.
How it looks now …
Stuck the landing on this one. The Patriots easily won the division and with Tom Brady at quarterback I would not doubt it, followed by the dysfunctional Jets (I thought the Jets were going to better than how they did; at least a run at the playoffs, but it just wasn't meant to be for them in 2011), followed by a 6-10 tie by the Bills and Fish.
Score: 1 point.
2. MVP Finalists
Then …
QB Aaron Rodgers, Green Bay Packers; QB Tom Brady, New England Patriots; QB Drew Brees, New Orleans Saints; RB Arian Foster, Houston Texans; and WR Calvin Johnson, Detroit Lions.
Now …
Nailed this one, too. Picked the all finalists, but offer late shout-outs for almost making it to, Jacksonville Jaguars RB Maurice Jones-Drew, and New York Giants QB Eli Manning.
Score: 1 point.
3. And the MVP is …
Then …
I'm picking Tom Brady because he has a great set of wide receivers and if they play well than Brady will play great.
Now …
I think that Tom Brady played well, but a 15-1 regular season could show that Aaron Rodgers wins it.
Score: 0 points.
4. Runner-up
Then …
Brees should really come close.
Now …
I got this one right, it's going to be Brees. And should be.
Score: 1 point.
5. If they gave the MVP to a defensive player …
Then …
LB Justin Smith, of the 49rs. I think that he'll especially shine with John coaching them now, don't be surprised if he becomes one of the greatest Linebackers this season.
Now …
I think I nailed this one, he was one of the best linebackers this season and earned a spot in the Pro Bowl. I would like to say that Baltimore Ravens linebacker Terrell Suggs or possibly the 49ers LB tag team of NaVorro Bowman and Patrick Willis should get some love for being great contenders, but I think Smith deserves this one.
Score: 1 points.
6. AFC North
Then …
(Order of finish)
Baltimore Ravens –The Ravens are a dangerous team as always, their defense will probably be what they ride on all season because their offence needs help. With the addition of Big Willie to their Running Backs they should create a good running attack. I think it will be enough to beat the Steelers for the division.
Pittsburgh Steelers – The Steelers are always going to be in the hunt with their talent, I don't put them in first because I'm worried about the injuries that have held the Steelers back before. Many of their players are older now and this might cause them to not win the division. I know that they'll make the playoffs though because they always seem to squeeze their way in there.
Cincinnati Bengals – I think that this team has potential for the near future, but this year is not going to be their best year. With Andy Dalton at starting quarterback I would expect a few more years before the Bengals get back into the playoff hunt, but there is no doubt that their better than Cleveland.
Cleveland Browns – Do we really have to talk about the Browns? Payton Hillis has the Madden curse from being on the cover so he's probably going to end up like all the other guys who have been on the cover in recent years so I'm guessing no more than four wins this season.
Now …
Got this one mostly right. The Steelers and Ravens had identical 12-4 records, but Baltimore won the division. I whiffed on Dalton and the Bengals, who squeezed into the playoffs as the second wild-card team, but they still came in third so I got that right … And I was right on the Browns, the Madden curse lives on maybe next year Payton Hillis.
Score: 1 point.
7. Executive of the Year
Then …
I don't know any real executives, but I'll have to say that I'm picking the Patriots' executive because he's done well in the past.
Now …
I have done a little more research since then on the executives and I can't believe I'm saying this — the NFL exec of the year has to go to Bengals owner Mike Brown. He drafted well. He traded well. He stockpiled future high draft picks like cords of firewood. (The Patriots are experts at using that model of draft day flexibility.)
Brown wins it over the 49ers' Trent Baalke and the Detroit Lions' Martin Mayhew.
Score: 0 points.
8. Six dates to remember (or you could just write them down)
Then …
Sept. 8 — New Orleans at Green Bay. Classic battle of Super Bowl Champs, will we see a rematch in the postseason??? Maybe.
Sept. 11 — The Ryan Bowl: New York Jets coach Rex vs. Dallas Cowboys defensive coordinator Rob.
Oct. 30 — Dallas at Philadelphia. Rob Ryan isn't buying the "Dream Team" thing — and said so.
Nov. 6 — Green Bay at San Diego. Going to be one of the highest scoring games of the year.
Nov. 6 — Baltimore at Pittsburgh. First team to score 14 wins.
Dec. 26 — Atlanta at New Orleans. Not Pittsburgh-Baltimore intense, but getting there.
Now …
My sense of smell needs work, but the Saints-Packers game was a keeper (Green Bay 42, New Orleans 34). … The J-E-T-S R-A-L-L-I-E-D to win against Dallas. … Philly blew out the Cowboys. … The Pack and Bolts almost got to 100 (they totaled 83). … Baltimore swept the Steelers with 23-20 win… The nearby old folks home could have put up more of a fight against the Saints (New Orleans 45, Atlanta 16).
Score: Half-point.
9. NFC Rookie of the Year
Then …
QB Cam Newton, Carolina Panthers. He is going to prove his doubters wrong and might end up with good season in Carolina.
Now …
QB Cam Newton of the Carolina Panthers was a great pick. Newton was a football revelation as a rookie, now the Panthers have to draft players to help him out.
Score: 1 point.
10. AFC Rookie of the Year
Then …
This is a tough one to call, but I think that AJ Green will be big in Cincinatti. He's got amazing hands and he's got many things that you don't normally find in rookie wide receivers, if there are any rookies more talented in the AFC than this guy than I'll be surprised.
Now …
AJ Green was good, but I think that his quarterback that surprised me. Can we just call it a tie?
Score: 0 points.
11. AFC South
Then …
(Order of finish)
Houston Texans – Arian Foster is one of my top choices for MVP and I think he'll do really well this season. This Texans team could smell the playoffs for the first time!
Jacksonville Jaguars — At least the Jags have a safety net named Maurice Jones-Drew. And no way do the Jags finish 28th in total defense this season, not with LB Paul Posluszny. It really remains in the hands of their QB David Garrard.
Tennessee Titans — Drama king Vince Young is gone, replaced by 35-year-old Matt Hasselbeck. … But Hasselbeck can run a team, something Young couldn't figure out. I feel that the Titans could make a run for second, but the playoffs are out of their reach.
Indianapolis Colts — Until four-time MVP Peyton Manning returns — if he returns — to the Colts lineup after Thursday's cervical neck fusion surgery, Indy will have make do with 38-year-old Kerry Collins and if he doesn't come back I smell trouble in Indy.
Now …
Picked the winner, chicken dinner. … The Titans finished 9-7 but missed the playoffs. … MJ-D gained 1,606 yards. … Indy owner Jim Irsay tweeted a lot and fired people a lot. Just based on how the Colts did without Payton Manning should probably make him MVP, right?
Score: Half-point.
12. First Pick in 2012 Draft
Then …
"With the first pick in the 2012 NFL draft, the St. Louis Rams select Stanford University quarterback Andrew Luck."
Now …
"With the first pick in the 2012 NFL draft, the Indianapolis Colts select Stanford University quarterback Andrew Luck." I was close, but the Rams will get the second pick.
Score: 0 points.
13. AFC West
Then …
(Order of finish)
Kansas City Chiefs – The Chiefs have some potential this season. If Matt Cassel can stay healthy throughout the season then they will win the division.
Denver Broncos — If the Broncos don't win more than their 2010 total of four games, I will be really shocked. Rookie LB Von Miller's arrival and veteran DE Elvis Dumervil's return, coupled with a better-than-you-think offense, could bump the Broncos ahead of the Cheifs. I think that Orton could make a statement leaving the other QB out of the picture.
Oakland Raiders — I'm trying to figure out how the departures of CB Nnamdi Asomugha, OG Robert Gallery and TE Zach Miller make the Raiders a better team. Oh, wait, they don't.
San Diego Chargers — A 2-5 start knee-capped their postseason chances in 2010. It will happen again in 2011, this should lead to the firing of their head coach.
Now …
I was wrong about the Chargers — they didn't start 2-5. Instead, they started 4-1 and then walked into oncoming NFL traffic, dropping six in a row. … Who could have predicted that Tyler Palko would start at QB for the Chiefs? … Not even the Carson Palmer trade could save the Raiders. Or now-fired coach Hue Jackson. … The Broncos not only won more than four games in 2011, they doubled the total and made the playoffs. If only I could remember the name of their quarterback.
Score: half-point.
14. Dead Coach Walking
Then …
Tony Sparano, Miami Dolphins. The first hint that Sparano wasn't ownership's particular brand of vodka is when they tried to hire Jim Harbaugh from Stanford … with Sparano still on the payroll!
Now …
Sparano was canned Dec. 12, with three games remaining on the Dolphins' schedule. Said owner Stephen Ross, who's always good for a yuk, at the post-firing news conference: "I'd like to find a young Don Shula if that's possible."
It wasn't. Ross hired Packers offensive coordinator Jim Philbin, 50, to replace Sparano.
Anyway, this one was too easy.
Score: 1 point.
15. Runner-up
Then …
Norv Turner, San Diego Chargers. The guy has been here too long. But he runs out of lives after this season.
Now …
He might not be fired yet, so I guess I got this one wrong. I think he'll be gone after next season, but it's almost a disappointment to hear that he's returning next season.
Score: 0 points.
16. NFC East
Then …
(Order of finish)
Dallas Cowboys — I'm guzzling the Jerry World Kool-Aid this season.
Philadelphia Eagles — I think this is a closer division race than most people think. … I'm not absolutely convinced they're the dream team or that they'll win the East so I'll put them as runner-up.
Washington Redskins — [Rex] Grossman is the guy who popped off about the Redskins being "ready to take over" this division. It's a nice thought, but it only happens if the Eagles and Cowboys (maybe even the Giants) switch to the AFC. I look at this roster and I don't see eight wins.
New York Giants – I think that the Giants re-tooled offensive line won't do it's part and the defense will struggle even after Osi's holdout. The Giants need this season to retool because if they don't there is no way for them to have a shot at the playoffs in a few seasons.
Now …
Some Dream Team. It finished 8-8 and missed the playoffs. … And so did the Cowboys. … And so did the Redskins, who, as predicted, didn't win eight games. … And so did the Giants. Wait, they're going to the Super Bowl?
Score: 0 points.
17. Breakout candidates
Then …
I see many ESPN Top 10 Plays of the Day appearances by Green Bay QB Aaron Rogers and his discount double check, Green Bay TE Jermichael Finley, St. Louis WR Mike Sims-Walker, New York Jets RB Shonn Greene, Dallas RB Felix Jones and Denver LB Von Miller.
Now …
Too bad I didn't see Rob Gronkowski (though, in my defense, I did take him fairly early in my ESPN fantasy draft and have the cashed check to prove it; that is, if I had played for money … which I didn't), Newton, Detroit QB Matthew Stafford and G-Man WR Victor Cruz.
Score: 0 points.
18. Breakdown candidates
Then …
I see health problems for Cincinnati rookie QB Phillip Rivers, Miami RB Reggie Bush, San Francisco RB Frank Gore, Seattle QB Tarvaris Jackson and New York Jets WR Plaxico Burress.
Now …
You know it's a weird year when Bush starts 15 games. But he did and generally played well (1,086 rushing yards, 43 receptions). And Dalton survived his rookie year in basically one piece and lead his team to the playoffs.
Score: 0 points.
19. Comeback Player of the Year
Then …
Matthew Stafford, Detroit Lions. Just think what he can do if he's out there for all 16.
Now …
Here's what he can do: 5,038 passing yards, 63.5 completion percentage, 41 TDs and a 97.2 QB rating.
Score: 1 point.
20. Runner-up
Then …
Tom Brady, New England Patriots. He's a miracle worker in the fourth quarter when they're behind so I'll choose him as my runner-up.
Now …
No, he didn't. Brady wasn't down many times in the fourth so if I had a do-over, it would have been the Niners' Alex Smith.
Score: 0 points.
21. NFC North
Then …
(Order of finish)
Green Bay Packers — I can't even invent a reason why the Packers won't win the division.
Detroit Lions –It's not complicated. With QB Matthew Stafford, the Lions make a playoff run, finally.
Chicago Bears — I still don't see a No. 1 wide receiver, still don't see a dependable offensive line and still don't know if Major Wright is the answer at free safety. I know this: Jay Cutler has to stay upright for the Bears to have a chance and wide receivers are import, Roy Williams has to deliver the goods.
Minnesota Vikings — If Donovan McNabb can figure out how to work the Way Back Machine, who knows?
Now …
Not exactly advanced calculus in this division. Packers finished 15-1. … Lions made the playoffs behind Stafford. … Bears didn't have a No. 1 WR or a dependable free safety, and Cutler couldn't stay healthy. … McNabb was waived by the Vikes with a month to go in the season.
Score: 1 point.
22. Coach of the Year
Then …
Jim Harbaugh, San Francisco 49ers. He'll show us that the NFC West has a powerful team finally.
Now …
I could gloat, but seriously, I didn't expect the Niners to go from 6-10 in 2010 to 13-3 and the to be in NFC championship in 2011.
Score: 1 point.
23. Runner-up
Then …
Marvin Lewis, Cincinnati Bengals.
Now …
He did really well to get them in the playoffs.
Score: 1 points.
24. The NFC team most likely to surprise us
Then …
Carolina Panthers. Ten wins will get them a wild-card spot under Cam Newton. This would arguably be the most amazing turn around in history
Now …
Ten wins got the Falcons and the Lions into the playoffs. But Cam's teammates couldn't deliver, which is pretty sad since Cam did amazingly well in his first season on the field.
Score: 0 points.
25. Runner-up
Then …
Dallas Cowboys. For a pleasant change, the Cowboys aren't all hat, no cattle and I picked them to win the division despite the odds.
Now …
Actually, they were more like dairy cows.
Score: 0 points.
26. The AFC team most likely to surprise us
Then …
Buffalo Bills. I think that they their running game has started to pick up and Ryan Fitzpatrick could show us how he has grown over the passed few years. The Bills might just make the playoffs this season if they can pull off being the surprise team.
Now …
Well, they surprised us by going 5-2 to start the season and beating the New England Patriots at home, but they stepped onto incoming traffic and the Bills got turned into meat. Then they surprised us by going 1-8, and having all their hopes from the beginning of the season crushed. But I didn't predict any of that. So …
Score: 0 points.
27. Runner-up
Then …
Cleveland Browns. A soft-ish early season schedule gives the Browns a chance for a fast start. I'm worried about their division opponents more than anything.
Now …
The Browns won two of their first three games and three of their first six. Big whoop. They ended up with four victories.
Score: 0 points.
28. NFC player who will feel the most pressure
Then …
Julio Jones, Atlanta Falcons. He doesn't have to be Roddy White this season, but he absolutely can't be Darrius Heyward-Bey, who has a grand total of 35 receptions and two TDs after being chosen with the seventh overall pick by Oakland in 2009.
Now …
At times, Jones was better than White, which is saying something. He had 54 receptions, 959 yards and eight TDs, but here's the revealing number: a 17.8-yard-per-catch average (higher than Calvin Johnson, Larry Fitzgerald and White, among others). And by the way, Heyward-Bey had a nice little season himself.
Score: 1 point.
29. AFC player who will feel the most pressure
Then …
Kerry Collins, Indianapolis Colts. If you think Collins is gray now, wait until he has to carry the Colts during Manning's absence. He'll need a vat full of Just For Men.
Now …
Collins felt it … and couldn't handle it. He lasted three games (49.0 completion percentage, 2 TDs, 1 interception), was winless and ended the season on the IR because of a concussion.
Score: 1 point.
30. NFC South
Then …
(Order of finish)
New Orleans Saints — I'm not messing with history anymore. No team has ever won back-to-back NFC South Division titles. I thought the Saints would end the streak last year, but Atlanta finished ahead of them. So now it's the Saints' turn to win the division and possibly much, much more.
Atlanta Falcons — If I felt a tiny bit better about the Falcons' defense, they'd be the pick here. They have some potential, but I don't think Matt Ryan will ever get them as far as the Super Bowl.
Tampa Bay Buccaneers — The Bucs are younger than Justin Bieber, but, man, do they have some talent. Too bad they're in this division. Then again, they proved everyone wrong last year, too.
Carolina Panthers — The Panthers are going to double their win total of a season ago! And still finish with the worst record in the NFC South. I think that Cam Newton will be good, but he can't win without the rest of his team playing well.
Now …
The Saints won the division but couldn't make it past the divisional playoffs. … Atlanta finished 12th in total defense, but the Falcons couldn't beat the Saints and actually lost to Tampa Bay. … The Bucs ended up 4-12 and Raheem Morris got pink-slipped. … Carolina actually tripled its win total from a season ago — from two to six.
Score: Half-point.
31. AFC team most likely to flop
Then …
Indianapolis Colts. With the uncertainty regarding Manning's return, anything is possible, including their first single-digit win total since 2001 and a playoff no-show. If Manning doesn't play they might just go from one of the best to one of the worst.
Now …
A 2-14 record (worst in the NFL), and a housecleaning of management and coaching staffs, yeah, I'd say the Colts did a belly flop.
Score: 1 point.
32. Runner-up
Then …
New York Jets. The Jets made the playoffs last year, in fact the AFC Title game, but I think they might flip around and they might need a lot of help. A eight-win season, or worse, is a distinct possibility.
Now …
Has to be the Jets, no-playoff season and a really dysfunctional team. They're going to need to do some work in order to get back in the picture; they almost lost their second place in division to the Bills!
Score: 1 points.
33. NFC team most likely to flop
Then …
New York Giants. New York fans are known for their patience and they rarely second-guess coach Tom Coughlin. I picked them as the last placed team in their division and that would be a huge flop for them.
Now …
Twelve games into the season, you could get 100-1 odds on the Giants to make it to the Super Bowl let alone win it. They entered the NFC Championship Game as 3-1 favorites. Who knew the smart guys in Vegas could screw it up as badly as I did?
Score: 0 points.
34. Runner-up
Then …
Seattle Seahawks. I don't think they will be able to even smell the playoffs after making it to the divisional round last year. I know Seattle still had a losing record after last year, but a divisional round playoff appearance to none is still a flop.
Now …
The Seahawks were never good this year, I think they might miss the playoffs for a few more years to come. Goodbye, playoffs.
Score: 1 point.
35. Your Week 1 Upset Special
Then …
In the Ryan Bowl, Rob will beat Rex. In other words: Cowboys 20, Jets 17 at the New Meadowlands.
Now …
And they would have won had Tony Romo not thrown a last-minute interception to Revis Island.
Score: 0 points.
36. Tim Tebow will start for the Broncos if …
Then …
He will start if he can prove his worth or if Orton can prove that he's not. I think that the Broncos will start Tebow by the end of the year.
My prediction: He's no washout.
Now …
He's still a work in progress, but he went 8-5 as a starter, including the playoffs (and that thriller OT win against Pittsburgh). He also led the Broncos to five fourth-quarter comebacks. He also became America's Favorite Athlete of 2011!
Score: 1 point.
37. NFC West
Then …
(Order of finish)
San Francisco 49ers — Is this the season Alex Smith finally figures it out? … I think Smith makes a quantum quarterback leap, thanks to the same guiding Jim Harbaugh hand that helped Andrew Luck at The Farm. I picked Jim Harbaugh to be coach of the year for a reason; I think that the 49ers could win the division easily.
Arizona Cardinals — This year [they] get Kevin Kolb, who has to be worth at least three more wins, right? And the early-season schedule is warm and fuzzy. I think they could make a run for division as long as Kolb proves his worth.
St. Louis Rams — If the Rams can avoid a 1-6 start, they have enough wiggle room in the second half of the season and enough talent, but they have no shot at the division title.
Seattle Seahawks — Remember those seven regular-season victories, the division title, the playoff win against New Orleans in 2010? Good, because none of that is going to happen this year.
Now …
Guess what? The Rams couldn't avoid the 1-6 start, QB Sam Bradford couldn't avoid injury and Steve Spagnuolo couldn't avoid getting fired. The good news? Mel Kiper says they can get Oklahoma State WR Justin Blackmon with the No. 2 pick. … Kolb was a semi-bust, but the Cards still finished second in the division at 8-8 (thank you, John Skelton). … I got the Smith/Harbaugh part right. … Seattle got the seven wins but no backdoor playoff spot this time.
Score: 0 points.
38. Team with the best chance to go undefeated
Then …
Green Bay. The first half of the schedule gives the Green Bay a crack at an 8-0 start. After that, they might have built enough momentum to go all the way. You might see the discount double check come out more than once this season from Aaron Rogers.
Now …
I got this one right, Green Bay didn't go undefeated, but they made a big run before losing to the Chiefs of all teams!
Score: 1 point.
39. Team with the best chance to go winless
Then …
Without Payton I think the Colts will have the best chance at losing the most games. I could argue the Rams, but I'm going with Indy on this one
Now …
The Colts made a run at 0-16, but the streak ended after 13 consecutive losses. The Rams were tied at 2-14 so that was close too.
Score: 1 point.
40. AFC Playoffs: Last Team In
Then …
Buffalo Bills. I think that Buffalo could squeeze in as that surprise team late in the season.
Now …
They made their run for five games, but once they lost seven consecutive games I knew they were out of the picture. The Bengals were the last ones in.
Score: 0 points.
41. AFC Playoffs: Last Team Out
Then …
Cincinnati Bengals. I think Andy Dalton could help the Bengals make a run, but not enough to squeeze themselves into the playoffs.
Now …
The Bengals actually were able to slip in. I was close, but that wasn't enough.
Score: 0 points.
42. NFC Playoffs: Last Team In
Then …
Philadelphia Eagles. I still think this dream team is going to be bust, but they should
Now …
Actually, the Cowboys were eliminated in Week 17.
Score: 0 points.
43. NFC Playoffs: Last Team Out
Then …
Detroit Lions. If Stafford spends the entire season in a Lions uni and not part of it in street clothes, then Dr. James Andrews deserves a playoff share. I think that if that were to happen then I would gladly laugh at myself for doubting.
Now …
Mock away. The Lions were the last team in.
Score: 0 points.
44. AFC Championship
Then …
Baltimore at New England. I think that the Patriots will find their way back by the end of the season and home as the #1 seed. Baltimore could make another run bringing an excellent AFC Championship to enjoy. The result: Well, it's could go either way, but based on how New England's defense played last year I don't think Tom Brady will have enough in him to grab the win from the Line backing core of Baltimore 28-24.
Now …
Got the teams right, and I got the prediction half right. Sort of. Argh, forget it.
Score: half-point.
45. NFC Championship
Then …
New Orleans at Green Bay. The two teams that started the NFL regular season also end the NFC playoff season. I think that New Orleans will win this game because of the amazing power of Drew Brees. Green Bay will have home field, but I don't think that's enough to stop WHO DAT Nation from going to their second Super Bowl in three years 38-28
Now …
It's not my fault the Packers forgot they were 15-1. Or that the Saints couldn't hold on to a last-minute lead against the Niners.
Score: 0 points.
46. And the Super Bowl winner is …
Then …
I think that Baltimore will play hard and Ray Lewis will get the Ravens so close, unless there is a revolution in the Ravens offence than I see the Saints winning this in a pretty close defensive battle 17-13.
Now …
OK, I took the Super Bowl oh-fer.
Score: Zero points.
And my  grand total is …
Score: 21 1/2 points, which means thigh pad status. Not bad, not great.
But no use giving up.
Patriots are going to beat the Giants 27-20.