Let's Cheer for Cheer!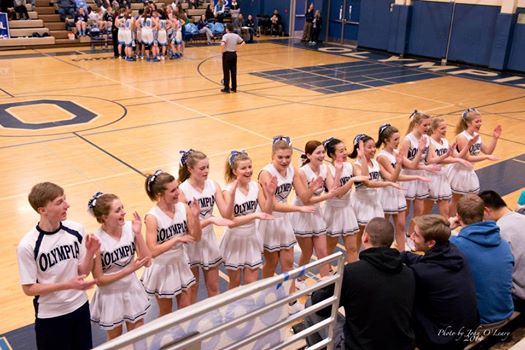 Sarah Blue, Co-Editor in Chief
March 11, 2014
Cheerleading is a sport! Although stereotypical preconceptions may cloud student opinions, Olympia High School's cheerleaders are a tightknit group of diligent athletes. Even Cheer Captain Senior Christina Le began cheerleading her sophomore year with great trepidation. "I had a very stereotypical image of cheer coming in," said Le, "and thought it would just be big bows and shorts skirts, but it turned out to be more skillful than I had ever imagined. Cheerleading, believe it or not, it takes real athleticism."
Tryouts for next years squad commence in May, with practice all summer. During vacation they practice two to three days a week for three hours, performing endurance and strength exercises and practicing stunts. No other OHS sport thrusts teammates into the air; they really need to be safe and confident. Senior Duncan Noah joined the squad in 2013, as their first male cheerleader. According to Junior Emily Bloom, "He's been a really great asset for the success of our stunts."
Like Drill team, which spans multiple seasons, Cheer faces the unique challenge of integrating new members mid-year. The fall team is typically larger, but both seasons consist of hours of practice, poster-making and supporting fellow OHS athletes.  In both fall and winter they attempt to attend events for every sport, not just football and basketball. "But there's always an issue of scheduling or transportation that comes up and keeps us from being there. We always try to support and acknowledge all sports even if we can't make it to their events," states Le.
They started out the New Year with a change of coaching staff, ushering in new head coach Tracie Malmin, who has been deemed "a great asset" and a "skilled and motivational leader" by her team.