Who Wears Short Shorts?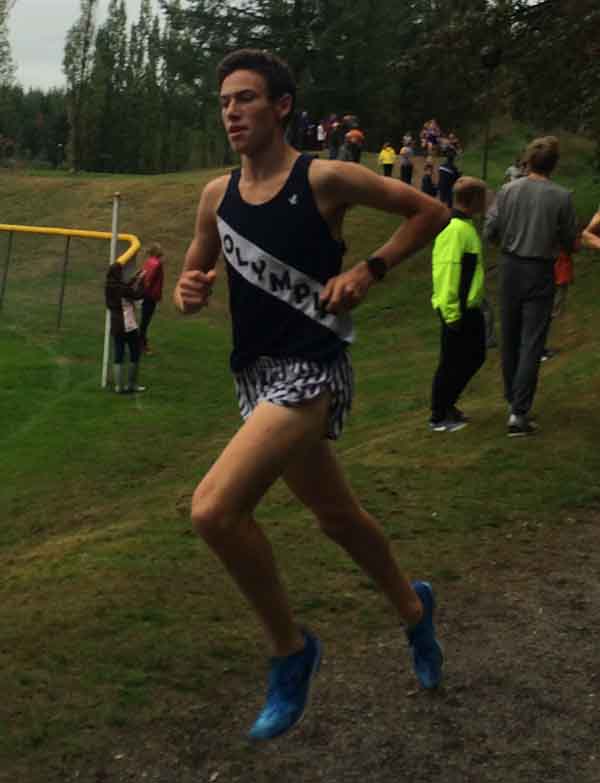 Quinn Johnson, Writer
November 9, 2015
The voluntary pain. The thinly veiled homoerotic undertones. Those shorts. Cross Country can seem like an enigma to many outsiders. Most people will never understand the blood, sweat, and tears that go into a sport where the primary objective is to tear your body down and rebuild it into a smooth, well-oiled distance running machine . It should come as no surprise to anyone familiar with the sport that runners have a significantly higher-than-average pain tolerance. Since Cross Country competitions typically occur in isolated woods rather than stadiums or courts, spectators are not plentiful, so many OHS students may not know that the OHS Cross Country Team has quietly been building itself into a powerhouse. The team entered the season with the loss of some strong players; Ben Gilvar-Parke graduated to run for Oberlin College, Kyle Rapacz left to run for PLU, and local legend Peter Kesting decided to take a gap year for a bike trip from Portugal to Siberia. It was up to veteran Coach Jesse "J-Money" Stevick and Team Captains Noah "Murdog" Murry and Ben "B-Riles" Riley to rebuild the team, and they did so spectacularly. The underclassmen this year are stronger than they've been in recent memory, led by freshman Tilahun "Tilly" Castro, who currently holds the #3 position on the team. Sophomore and fellow Varsity runner Jack "Odell" McCauley is "really excited about the young talent we have" and in the coming years "hopes to podium at state." Noah Murry agrees with McCauley that "it's a very young team with a lot of potential," but cautions, "we have a lot of work to do to get the results [we want]," which he sees as a top five finish at State. The Bears consistently place highly at State but have never won; something that may change if the underclassmen stay on the path they're currently following.
The beauty of the sport is that everything is quantifiable and you can directly see the result of all the training you put in; even a mediocre runner can become excellent, if he wants to put in the work to get there. Ben Riley started off his freshman year running on lower C-Team; after three years of grinding, he's now the number-one runner on Varsity. According to Riley, "It took a lot of hard work and dedication but it has absolutely been worth it." Like the great philosopher Shawn Carter once said, you can't knock the hustle.
On the always-controversial subject of the shorts, most runners are proud of theirs; they allow for greater freedom of movement, and when you're running mile repeats in 90-degree weather, the less you're wearing, the better. Murry notes that "They definitely aren't the most attractive attire but they work the best for what we do". He's "so accustomed to them that [he doesn't] really think about it anymore. Although the shorts do not conform to the school dress code, which mandates mid-thigh length at minimum, they are permitted to be worn in school as they are sanctioned athletic wear, similar to cheer uniforms (I've worn my Varsity shorts on Spirit Days multiple times with incident). And everyone knows you can't put restrictions on pride.