Volleyball
Hang on for a minute...we're trying to find some more stories you might like.
Now that volleyball season has fallen upon us, the Olympia High School varsity volleyball team is hard at work on their process as they prepare for each game this season. For the varsity team, getting to state is not the goal, the goal is working really well together and if they make it to state, then the process paid off. For this group of players, the work that goes into building skills and what connects them as teammates is what propels them each day.
        Olympia high school volleyball Coach Creighton works each year at the very start to build covenants, written by each team, to guide the players. When asked about the goals for this year Coach Creighton said, "The players have set some goals for themselves," but Coach added, "it is not how we start the season, it's how we finish." Coach Creighton encourages the players to work hard and show grit, a stick-to-it-ness that can be found on a team. The Varsity team's covenant includes: Pride-passion, resilience, integrity, drive, and excellence.
        When asked how they are preparing for state, Emily Church, junior said, "We are going to work hard, focus on the process… and the covenants." Each time a player was asked how they are planning for state or for a game, the answer returned to process and the covenant, not to mention working hard. Camryn Wilson said they are focused on, "Play(ing) super well together instead of trying to make it to state."
        Varsity is different this year from the last few years; there are no seniors and there are two new freshmen, Avi Vetter (number 7 and outside hitter) and Addie Denslow (number 2 and outside setter). Avi Vetter "brings height and a strong outside hitting presence," says Emily Church of Vetter. From her experience on the JV team, Jessie Jewell, junior said with pride, "it is a lot different than JV; there is a lot more team bonding and a lot more togetherness, and the team is more about being united than being skillful."
Building a team is more than drills and working hard on the court; and Coach Creighton knows this all too well. Players went all in for feeding the larger Olympia community. On September 18th, rather than practice together, players volunteered at the food bank. They collected an astounding 162 food items and $144 in donations and tickets sales on September 21s. The  proceeds all benefit the Thurston County Food Bank. They also raised money at their game on October 4th during the, "no one fights alone" night, where each player wore the color associated with the type of cancer that has impacted them. The money raised that night went to The Cancer Care Alliance.
This year, OHS Volleyball now features a freshman team, C team, JV team, and Varsity team. This new freshman team was approved by the Olympia School District over the 2017 summer. Now, everyone gets a chance to play on a team.
OHS has a long history of sports excellence including volleyball. Over the history of OHS volleyball our teams made it to fifteen league championships, seven district

About the Writer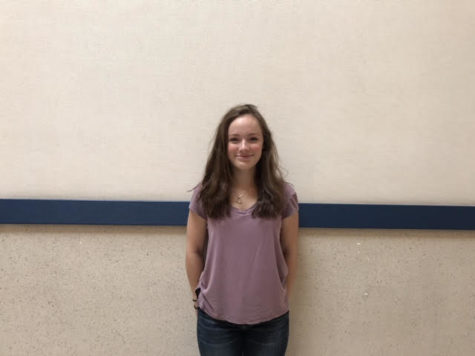 Kirin Winter, Reporter
My name is Kirin Winter, I am 16 and a senior at OHS. I work at AlleyOop Gymnastics and Don Juan's. I have done gymnastics myself since 4th grade up until...