Boys Soccer's Back!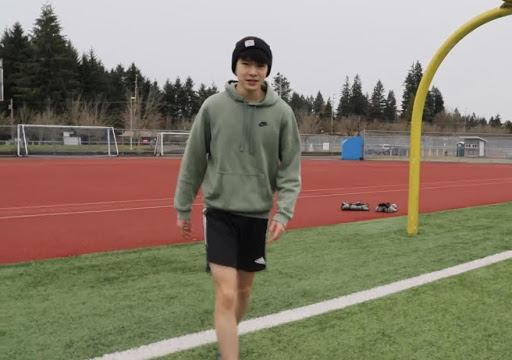 Across the nation, high school sports came to a sudden halt with the increasing cases of COVID-19 increasing by the day.  However, now in 2021, the return of high-school sports has slowly started to begin. One sport being Soccer, Boys' high school soccer to be specific.  Olympia High Schools boys soccer tryouts have begun to take place and players have their opinions on the overall tryouts and how they are under COVID Guidelines.  
    Alan He, A junior at Olympia High school is partaking in his 3rd year of Boys' soccer at the high school level. Regarding the differences during this year's tryouts to tryouts years prior, Alan had to say  " Soccer tryouts this year have felt a little different.  The precautions due to COVID such as masks and being aware of ur spacing has added another thing to stay focused on when on the field.  Besides that, It's not that much different." Players have their opinions when comparing tryouts to tryouts, He had this to say regarding his own opinion by stating " Tryouts from previous years seemed a lot easier to take part in. I prefer the prior year's tryouts but I'm grateful for even the opportunity to try out during these times." But with all the opinions regarding the tryouts, He still looks forward to the upcoming season and passed the tryouts with his team.  
     Oliver Kramer, A junior at OHS and trying out for the 3rd time in Highschool.  Kramer believes that the differences aren't that noticeable when he stated "Tryouts feel very similar besides the COVID guidelines and the shorter tryout date. It still felt fun and good to be able to try out for my school sport again."  Kramer also states is a neutral reference to the different tryouts throughout the years by saying "I don't have a preference. Both tryouts feel similar and still contained the same core aspects that made them tryouts."  With this neutral feel towards tryouts, Kramer is still very excited for the upcoming season "I feel as if I'm ready for the season. Yes, I'm looking forward to it."
     Gabe Crawford, a junior at Olympia High school is participating in his 3rd tryout at Olympia Highschool. Crawford explains the difference in tryout length when he stated "Tryouts are shortened which made things feel a lot more fast-paced which was fun but tiring."  Crawford expressed his preference for years prior compared to this year but is grateful for at least the opportunity to play. "I prefer the previous year's tryouts but this year wasn't too bad with the given situations. The program did the best they could with what they had to at least allow us to play at all."  Overall Crawford feels ready to play and jump back into high school sports.