Oly Unified Fosters Inclusion at OHS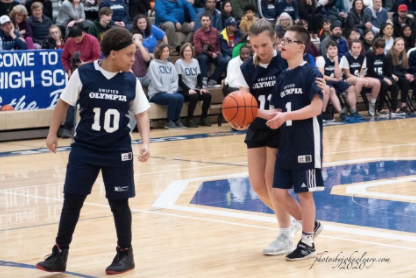 Inclusion is incredibly important to both students and faculty at Olympia High School, and that commitment extends beyond the confines of the classroom. One of the many ways OHS promotes social inclusion is through Unified Sports. Unified Sports is a program that unites both students with and without intellectual disabilities through sports and competition. OHS currently has cheer, basketball, and soccer Unified sports teams. Not only does Unified foster an inclusive environment, it also provides students with close-knit relationships and a strong support system. 
     Unified Sports began at OHS in 2015 when Devon Hollar, the ASB President at the time, asked Mr. Antonio McClinon, the current Unified Coordinator and Unified Basketball Coach, if he was interested in starting a Unified basketball team through the Special Olympics Organization. While hesitant at first, Mr. Antonio promised to commit to one season of Unified basketball, but the team turned out to be such a success that Unified Sports became a staple at OHS ever since. "After the first season of Unified," Mr. Antonio recalls, "my wife and I talked about the experience and how happy and grateful I was after every practice and game. The athletes are so excited to be a part of something and included in more activities at school and in the community." 
     Grace Clarke, a junior at OHS and co-captain of the Unified sports program, describes the relationships she has made through Unified sports as "unmatched in worth. I don't think I have ever been part of such a truly Unified team," Grace says. "Everyone's priority in Unified sports is to support and help lift eachother up, including the students on our opposing teams." The inclusive and uplifting environment leaves a profound impact on everyone involved with Unified. Clarke has been a part of Unified for three years and plans on continuing her participation throughout her senior year. 
     Mr. Gerrits, the Success Oriented Physical Education (SOPE) teacher at OHS, supports the Unified sports programs through his SOPE class. "This class is set up with a similar structure [to Unified Sports]," Mr. Gerrits says, "where special needs students have a general education student for a one on one tutor in a PE setting." Many of these students in this class are also a part of Unified Sports, so it provides a time to practice before their competitions. In addition to SOPE, Mr. Gerrits designs the logos for the Unified teams as well as supports Pack the Gym. These contribute to the success of the program by fostering the relationships students have made in the SOPE class to encourage teamwork and communication at Unified Sports competitions as well as garnering support from the local community through Pack the Gym. 
     Unified Sports has impacted and changed the lives of countless individuals through its commitment to inclusion and unity. "The biggest impact on me is my son experiencing everything connected to Unified," Mr. Antonio reflects. "When I was in high school, we had nothing like this so for him to see how everyone can be included is awesome. He sees the Unified Athletes as role models and talks about them like they play in the NBA." Clarke also reflected on how Unified Sports impacted her and her teammates. "Seeing the players who start off a little timid, but by the end of the season are confident and do really well in games is the coolest feeling," Clarke says. "[Witnessing their] success in just a couple months is incredibly inspiring." While all students eventually leave the program, many come back to support the team through events like Pack the Gym that directly support Unified Sports. This shows the incredible support Unified has accumulated within the school and throughout the community. From the players on the court to the people in the stands, the inclusive environment that Unified provides leaves an impact on all people involved with the program, both on and off the court.