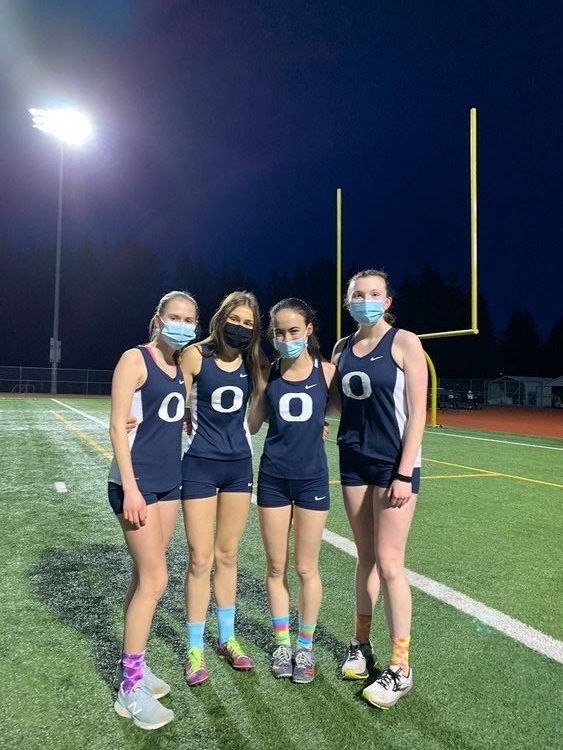 In early 2021, after months of being pushed back, the WIAA announced that Washington State would open for high school sports in the spring. Tens of thousands of students across the state were thrilled at the prospect of making up some of the lost lost time playing their favorite sports due to the pandemic. Students who trained for and began spring sports last year but were cut off last March by the COVID-19 shutdown were possibly hit the hardest.
Aiija Thuet, an OHS senior who plays varsity tennis reflected on her experience a year ago. "It was really disappointing for me last year when the season was cut short because I had spent many months preparing for it. It felt like I had been wasting my time practicing for a season that was no longer happening," she said. She wasn't alone in her sentiment. Jessy Welin, another OHS senior and a teammate of Thuet's commented on her feelings last March. "I was really upset. The team and I had been working really hard to prepare for the season and we didn't get to show our improvement," she said. 
But, as the sports seasons approached in early 2021, most athletes were ready to get back at it. Isabella Widrow, a senior at OHS who runs cross country and track talked about her excitement for the new sports seasons. "It's great to be back this year! I was mentally preparing for not having a season at all, so when they announced that it was happening I was really excited," she said. "It means so much to be able to run my senior year, as sports have always been my favorite part of high school." Thuet also mentioned her excitement about the upcoming tennis season, saying "I am super excited for this season because it's my senior year and my last chance to play high school tennis. I feel very lucky to have the opportunity to play this year since there was so much uncertainty leading up to the season." Finally, Welin commented on the subject saying that "This year has been a struggle, but I am grateful that our coach has believed in us and given us the chance to compete. Tennis has been a rock in my life and the current season has meant a lot to me."
Although students have struggled in what they have lost in all walks of life, the return of sports has provided an exciting sense of normalcy for everyone. For seniors at OHS, it is a way to end their high school career doing something they love and look forward to every day. And for everyone else, it might just be a sign that things are headed toward normalcy.