Why Student Athletes Don't Just Win on the Field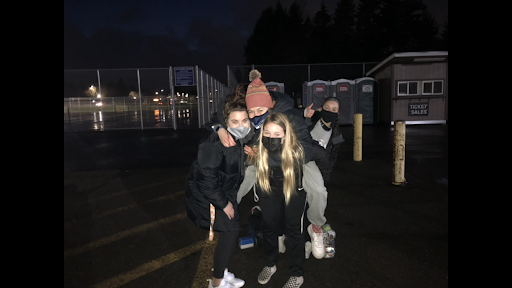 Sometimes up to 15 hours of combined practice and competition in a week, high school sports are no joke. These student-athletes are balancing schoolwork, social life and activities, family time, personal time, and proper sleeping and eating. As a result of this, researchers have noted that many of these student-athletes have adapted time management and personal organization skills that help them with all aspects of life.
Olympia senior cross country runner Allison Holder is aware of the helpful skills that her four years of running have brought her. "I feel like there are definitely benefits to competing in high school sports because of all the new relationships and community they bring." She added that "With sports, we are able to connect and socialize with others while doing something we enjoy." Student-athletes are found working hard in the classroom so they can make time for their sports. Holder said, "I am more organized because I have more of a schedule to my day and something to always look forward to!" Athletes like Holder are now back in the spirit of competition and able to have the season that they have worked so hard to prepare for.
One of the best views on how sports can change high schoolers is right from the sidelines. Nick Mullen is the new Olympia Football Head Coach as well as an educator at Olympia High School. When asked about whether there are advantages to participating, Coach Mullen said "Definitely. It teaches you to compete in different areas of life. It gives you time management skills, organizational skills, and it makes you prioritize your tasks because if you don't get your grades you don't get to play." As a former high school and collegiate athlete himself, the coach added that "Football is easy, athletics are easy. Guys have to fight through life all the time outside of school. Have fun playing sports because when you get out there life's tough."
In addition to cross country and football, another season one sport happening right now at Olympia is girls' soccer. Senior defender Landrey Mccann has been a big part of the program's recent success and is thankful for all that the sport has provided for her. "Some of my best friends have come from soccer and I don't know if I would've found them without it." Mccann has been playing at Olympia for all four years including many seasons before high school in which she has had great relationships with countless coaches and players. Similar to others, she's adapted to the often hectic weeks of being a student-athlete and has become more organized with her time and energy. The talented soccer player hopes to continue her academic and athletic career into college where she's confident that she will use her various acquired skills from being a student-athlete at the high school level.
Last year high school sports numbers were shown to be on the decline for the first time in 30 years. It can be tough to devote the hours to a simple game when there are so many other uses for your spare time. If you're deciding whether or not to participate, it's important to look at the hardworking student-athletes of our time and how that can better prepare them for the challenges that life will throw at them in the future.