Off to Nationals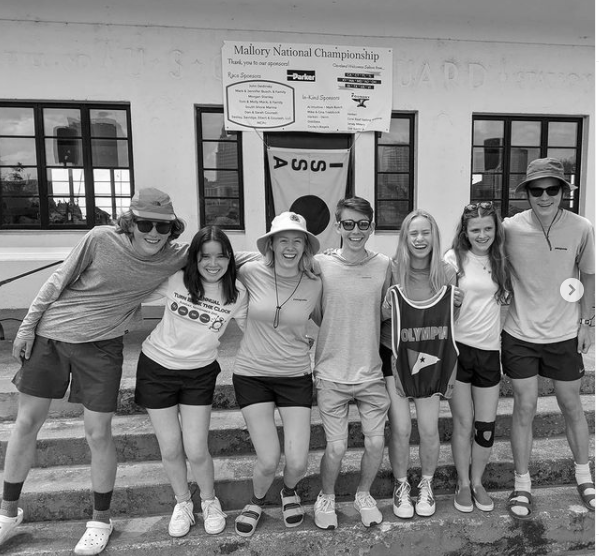 The Olympia Yacht Club High School Sailing Team recently competed at the 2021 High School Nationals, in Florida and Ohio. The sailing team practices at the OYC downtown three days a week, and has attended nationals twice before this year. The Interscholastic Sailing Association (ISSA) made the decision to continue holding nationals during the pandemic, with health precautions in place. In order to qualify for team race nationals in Florida, the OYC sailing team had to win team race districts which they competed at in April at the Olympia Yacht Club. In order to qualify for Fleet Race (single boats racing each other rather than whole team competitions) Nationals in Ohio, OYC had to win fleet race districts, which they competed at in Bellingham last month. Like many teams at OHS, the sailing team has had continued success throughout the school year despite a whole new set of circumstances. Not only was the OYC team able to practice, they were able to compete at a state and national level. 
The OYC team headed to Ohio earlier this month to compete in fleet race nationals, and placed 13th out of 26 teams. Earlier this year the team did not know if they would be able to compete at all under the circumstances, much less sail at nationals. Even local regattas were uncertain. Luckily for the team, they had plenty of time to practice their skills before their regattas, and were ultimately able to sail at the national level. Because the OYC team is not directly affiliated with OHS sports, it had to follow a different set of protocols, such as wearing masks on the deck and remaining six feet apart. In a normal year, the sailors would have the opportunity to sail with multiple people on the team, often having partners changed at practice. Due to COVID-19, for the Spring season the sailors had "fixed pairs" meaning that partners remained consistent throughout the season. 
A number of people on the team are students at Olympia High School, and have been sailing throughout their high school careers. Ellie Davis, an OHS Senior, has been sailing since the 8th grade. "The season was definitely the best way to end my senior year," says Davis. Although Davis was worried earlier this year about the potential for regattas, she was thankful that her and her team were ultimately able to race. "We get to race against some of the best high school sailors in the world and be challenged on a whole different level," says Davis on her favorite part of attending national competitions. "It's also cool just to meet and talk to other sailors from across the country," she adds. For the OYC team, being able to compete at such a high level also allows them to bring new lessons and skills back to their practices here in Olympia. 
Like many high school athletes, seniors on the sailing team will be heading to college, and deciding whether to continue their sport. "I was conflicted on whether or not to sail in college, but ultimately I chose a school that does not have a sailing team," says Davis. For many seniors, factoring in their sport during their college search has been a hard decision. "It's going to be a big adjustment not having sailing in life, and I'm going to miss my teammates and coach so much," says Davis. 
As Spring sports are being wrapped up at OHS, many school teams were able to have opportunities similar to those of the OYC team. Although protocols were still in place throughout the season, Spring sports such as track, tennis, and basketball were given much more of an opportunity to compete as compared to the Fall and Winter sports. As the pandemic continues to gradually come to a close, there is hope for a much more normal year of sports next year at OHS and in the Olympia community.