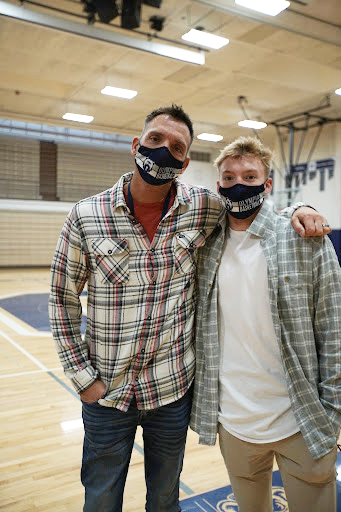 A 6-foot 1-inch point guard was offered a full ride at the University of Montana and University of Portland. Parker Gerrits, a junior at OHS, is part of the 2% of the highest level intercollege in the NCAA known as Division 1 basketball according to scholarshipstats.com.  He plans on majoring in business or being a teacher like his dad. Many wonder how he is getting Division 1 offers at such a young age.
A teen from Olympia High School, Gerrits, grew up here. He first started playing basketball when he was three years old and played his first game when he was only five or six. As a boy, he would watch his dad coach at Yelm High School and during those practices he would dribble up and down the court. He quickly went from shooting baskets on a little kid's hoop to shooting hoops on a 10-foot basket.  On top of that, Gerrits had his grandma help him. placing a little Tikes basketball hoop at the door and a piece of tape down as the free-throw line. "I would sit there for hours and shoot free throws over and over again on a little hoop when I was 3 or 4," Gerrits said.
During Gerrits' junior year he would lift weights before school at seven for one hour, then go to his classes, do a little bit of homework after school, have individual workouts or basketball skills or open gym at the school, and finally run and explosives for speed and vertical jump three times a week. John Gerrits, LOC and SOPE Teacher said that if you could define the younger Gerrits with one word it would be " motor… he just has this motor to him where he just goes." Gerrits chooses basketball over other sports because he "fell in love at a young age and it has never gone away" and helps him get things out of his mind. 
One interesting fact about Gerrits is that he grew up and played with his friends for a longer period of time than having teammates leave for a club team. As Mr. Gerrits stated, "It was him and his friends that were so special to see a group of kids that grew up together and learn the game the right way and beat teams on paper." Mason Juergens, Junior at OHS, says"I've played with him since third grade but probably freshman year when we were losing to a team by like 5 since he is swinging between JV and Varsity. He got to play two quarters JV and three quarters varsity and he came in second quarter and I think had 27 points in one quarter."  What stands out to most colleges are his traits, his tenacity, and teamwork skills on and off the court. One message from Gerrits is: "all the stuff that happened on the basketball court stays on the basketball court. Like outside basketball I try to be a role model to little kids and because I know little kids are watching me so I try to just make good decisions and show them what it's all about off the court and not on the court."
Overall Gerrits grew stronger physically and mentally over the years. Gerrits has proven to everyone that he is able to play at a high level of basketball while building strong relationships with his teammates. As Mr. Gerrits stated, "We are not hearing, oh you're awesome! you can score 40 a game. We want you! He has the ability to score 25 or 30 but he also has the ability to score 8 and still impact the game." Parker Gerrits will strive to get better and stay as a role model on and off the court.