Successful Swim Season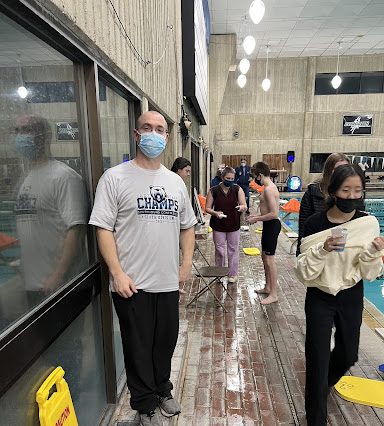 The Lady Bears swim team have just concluded another successful season as they wish a happy retirement to their head coach, Melvin Smith. Smith has been coaching for 15 years at Olympia High School on top of 43 years of head coaching in total. This season has been full of best times, a school record, and a team with an even brighter future.
Along with a great regular season record of 7-1, the girl's swim team placed third at leagues and third at districts. Justin Valz, the assistant coach for the Boys and Girls swim teams as well the head coach starting in the winter of 2021, says "it was a great season for a small team". 
This season was also successful across the board. Lucy Skiles, a senior here at Olympia High School and a state qualifier in the 500 freestyle, says "basically everyone got best times closer to the end of the season." Most of the team was able to look back at the season as a time of self improvement according to Skiles. Skiles was especially happy because this season, "definitely made up for our last season when we couldn't do a lot because of COVID." 
The future for the lady bears looks just as bright as this last season. Valz says that they, "only graduated two seniors" and, "[the team's] top four points scorers are all juniors or younger". This alongside with the constant growth of the team, Valz believes that the team has a solid shot for the league, district, and possibly the state championship in the future. Skiles also says that, "we have a lot of new swimmers" and is curious to see how the team will change under new coaching staff but is optimistic for the future of the team.
The season opened with an update to the record board. The 100 yard breaststroke record has been held since 2010 by OHS alumni Kathryn Culhane with a time of 1:08.36. Veronica Gourley, Sophomore and first time swimmer here at OHS, broke this record by nearly 2 seconds early on in the season. Gourley found her first season at Olympia, "fun and exciting". She loved the team atmosphere that isn't fully present on a club team and is glad that she did high school swim. 
Gourley wasn't the only person who found individual success this season. At state, the Lady Bears had 4 individual qualifiers, as well as the 200, 400 free, and the 200 medley relays. Margaret Otto, Sophie Nelson, and Lucy Skiles all placed 13th, 15th, and 17th respectively in the 500 yard freestyle. Takara Putt placed 13th in the 200 yard individual Medley, and 14th in the 100 yard breaststroke. Alongside with some great relay placements Olympia High School placed 24th overall at a highly competitive 4A state championship. 
Overall, the Lady Bears swim season was nothing short of successful with an even brighter future. Under new coaching staff, countless new swimmers, and room for growth, who knows what the future holds for our Lady Bears swim team.