Helping Cancer Patients One Family at a Time
On top of the emotional burden a cancer diagnosis places on a person or family, the huge financial burden often comes as a shock when they are already overcome with medical appointments and treatment decisions. This often unspoken financial burden causes many patients to deplete their savings, go into debt, or even fall into bankruptcy. The Mayday Foundation is a local nonprofit organization that helps to serve the needs of families coping with a cancer diagnosis in Lewis, Mason, Grays Harbor, and Thurston counties. With the help of generous donors and volunteers, The Mayday Foundation so far has helped support a total of sixty-six families. 
Amy Rowley, the founder of The Mayday Foundation, began this local non-profit in January of 2018 after being diagnosed with breast cancer in April of 2017. Throughout treatments, Rowley noted that "it was challenging to be a mom, wife, sister, daughter, and friend when being a cancer patient took so much of my time and energy." Despite having a strong support system, good insurance, and flexible employment, "it was still very difficult. I realized that if I lost even just one of those supports, everything would crumble quickly." In an effort to help local families keep their financial footing following a cancer diagnosis, Rowley began The Mayday Foundation. While being a cancer patient, Rowley recognized that short term expenses such as groceries or gas can often be the tipping point in financial survival during treatments. 
In order to help families with these immediate finances during treatment, The Mayday Foundation pays for a variety of household expenses including rent, mortgage, utilities, gas, and groceries. According to a study done by the Journal of the National Cancer Institute, 62% of cancer patients report being in debt following treatment and 3% reported having to file for bankruptcy. Out of the sixty-six families The Mayday Foundation has supported, none have been forced out of their home or filed for bankruptcy.
Additionally, The Mayday Foundation puts on a fundraiser each year to help raise funds for families coping with cancer. Diana Hoppe, a senior at Olympia High School, reached out to Rowley to see if she could volunteer for The Mayday Foundation with FCCLA, a club at OHS. "My club was put in charge of making 300-400 paper cones to hold bouquets for flowers for a fundraiser," Hoppe said. Hoppe definitely recommends reaching out and getting involved as "they are easy to work with and [are] genuine, kind people supporting our community."
About the Contributor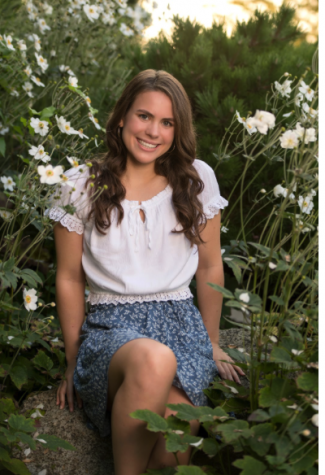 Lauren Wilson, Journalist
Hi! My name is Lauren, and I am a senior at Olympia High School. This is my first year in journalism, and I'm so excited to be a reporter for the Olympus...