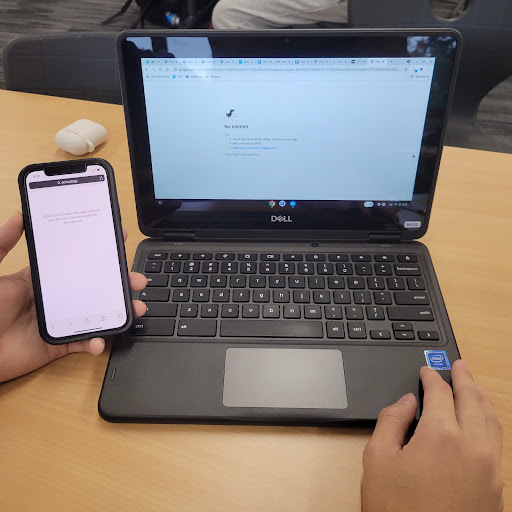 WiFi and cellular data problems at Olympia High School have been disturbing the work process for students and staff. At OHS every student is supplied with a personal Chromebook and has access to the latest technology including computers for editing, printers, smartboards, and more. All of this technology has proved to be very beneficial for our school, but most of it relies on having a stable internet connection.
At OHS students and staff have experienced problems with the internet, both with WiFi and cellular data. Kristin Costello, a Teacher and Activities Coordinator at OHS, mentioned her struggles with the internet. "A couple of weeks ago the WiFi would not connect after school." The bad internet also affects her students who sometimes can't download or upload files to Schoology. When WiFi isn't working the students turn to their phones, which also don't work because cellular data almost magically stops working at school. Kristin Costello guesses that the problem with the WiFi could be a result of so many people using the WiFi and her classroom being so far from the main building. When getting more in-depth about cellular data Kristin Costello said "It just doesn't work, I don't even know what I've missed until I walk out of the building." Costello said in support of the efforts of our Oly Tech Department, "Our technology department is super responsive and helpful, but sometimes it just doesn't work." 
Carlos Escobar, a Junior at OHS, is also frustrated about the problems with the internet. "My phone is just like a brick, as soon as I'm pulling into the school parking lot my mobile data stops working," said Escobar. He was more concerned about cellular service because he sometimes couldn't make calls or send messages. 
One way students could get around the problem is to use a VPN,  which tricks your phone to think you are somewhere else. A good VPN requires a paid subscription which not everyone wants to pay for and a free one is very unreliable. Escobar suggests you "make sure you turn on your VPN before you reach school, because you need access to the internet for the VPN to connect."
Marc Elliott, the OSD Chief Information Officer, mentioned that for any changes to happen the first thing to do would be to report the problem. Elliott states that "OHS has the best WiFi coverage out of the OSD high schools." The only known major problems with the WiFi that were reported and worked on by the technology department was in the 2019-20 school year, right before the lockdown. Elliott noted how the tech department went out of their way to make sure the WiFi connection is exceptional, by connecting all the computers in the Viscom wing to a separate internet line. Elliott acknowledged that "there could be minor glitches here and there, as we manage close to 1,000 WiFi routers in the OSD, and especially at OHS with all of the construction going on."  As for the cellular service, Elliot said that their department works on WiFi only and that he doesn't have much input on the problem with mobile data. He did mention that OHS has always been a bad place for cellular data and the reason could be all the metal in the building. Elliot said that it would be easy "if everyone used Verizon we could just request Verizon to put a satellite at OHS, but everyone uses different providers. Instead of using mobile data students can connect their personal devices to the school WiFi, "the username is your last name and the first letter of your last name, and the password is the same that you use to log in to your Chromebook."
If any students or staff experience problems with the Wifi that can't be solved by OHS staff they can email Marc Elliot at [email protected]. As stated many times, the only way the OSD tech department can help us is if they are informed about what the issue is.