Oly Bear Preschool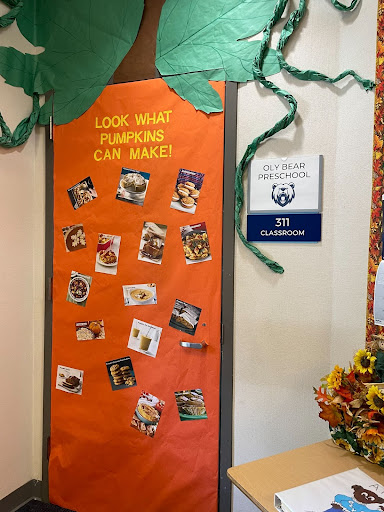 Oly Bear Preschool, "A Happy Place to Learn & Grow since 1979," serves parents with children aged three to five. The preschool began as a learning lab for students in the Olympia High School Early Childhood Education (ECE) program. Students are paired with preschoolers to engage in educational and creative activity. ECE students who are experienced in the program may come back in their second year, leading engagement and supervision. 
Parents of Oly Bear Preschoolers are always welcome and encouraged to become familiar with their childrens' buddies throughout the school year. OHS Teacher, Melissa Longnecker, has a daughter in her first year at the Preschool and loves it. Longnecker says her daughter is, "excited about going to school every day, [and] I appreciate all the opportunities she has to learn about what school is–including reading books, doing art projects, and classroom jobs or responsibilities–before she goes to Kindergarten." She adds,  "having such a positive preschool experience is a wonderful way for kids to get ready for 'big kid' school." Longnecker also loves the opportunity ECE students have to participate and learn alongside the preschoolers. She believes the program is unlike any other in the area, and it's great that high school students can be mentors while being taught about early childhood development. 
The class has been really helpful for students who want to pursue a career in education, especially with young children. ECE Student and Senior, Kathryn Hemmen, says the preschool has been "convenient for parents with high school students, as they can take their younger sibling to or from school." ECE students follow a two week rotation schedule. For one week they interact with the preschoolers and for the other they learn about childhood development and behavior. First year ECE students work with the morning class of younger children. Hemmen thinks it's, "really cool for the preschoolers to have a high school buddy and be able to learn from each other." 
The Preschool is public and serves parents all over the district. Preschool Director, Shelly Wilson, has been in the Preschool/ECE program for 8 years. "It's mainly teachers that are in the high school teaching age group who understand the significance of high school kids and their impact on young children," says Wilson. A typical day in the Preschool begins with freeplay learning, followed by circle time of songs and stories, then independent choice on further activity, outside and snack time, ending back in the circle. The Preschool is a learning lab for the ECE students and "they get to implement that and watch and learn as they interact with the preschoolers." Those who have completed the ECE class have the opportunity to apply and be approved for an "internship as an extension of the teacher, a pretty big job that they can take ownership of with above and beyond experience," says Wilson. Advanced students have a big role coming in during their day, having to read the room, and jump right into everything. Wilson says that, "just like any great connection that a Preschooler has with their babysitter, they get that at a more consistent level; it's a deeper relationship because it's not at home, it's here [at OHS]."
Oly Bear Preschool consists of two sessions, one in the morning and one in the afternoon. The AM session caters to those three-four years old and the PM session to those four-five, Monday through Thursday. Tuition for the full month of attendance is $230 all year, excluding September, December, and the summer when the preschool is not in session.