Supporting Students During College Application Season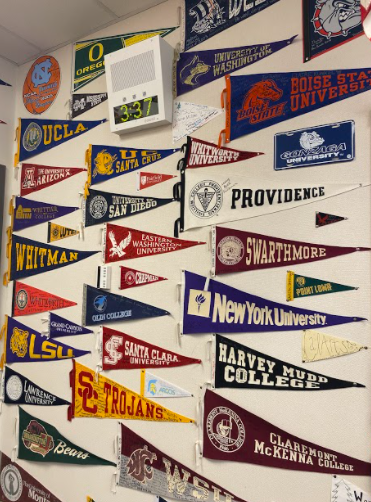 Application deadlines are nearing and on the forefront of many college-bound seniors' minds. The co-existence of applying to college and progressing through the first semester of a senior school year is weighing on many seniors. Whether or not it is the job of a teacher to take into consideration this extra stressor that is distracting a large population of seniors is disputed. Mike Schaefer, Senior Social Studies Teacher, says "a huge part of what we [teachers] do is get you ready for life after high school…so I accept that responsibility." While other teachers, such as Robert Bach, Senior AP Literature and Composition Teacher, believe "a teacher's role is to prepare students to progress in content and not necessarily in processes."
For some students, guidance is a barrier that stands in the way during the application process. While giving guidance is not necessarily something that can be incorporated into class, Bach states that "there are people here [at OHS] that have been tasked with that." Guidance counselors along with the College and Career Readiness counselor Jen Boelts are all responsible for assisting students in the process. Interestingly enough, guidance in writing admissions essays were provided in Senior English classes in the past- but not anymore. While it wasn't a requirement, it was something that most English teachers incorporated into their fall lessons because of a need that was voiced by students.
There are other things that teachers are doing to support students in this process. Schaefer points out that post-pandemic applications are emphasizing essays more than they had in the past. With many colleges adopting a test-optional policy, letters of recommendation and personal essays have taken on the extra weight of informing a college of who you truly are. Katelyn Rigg, Senior, points out that while senior English classes don't provide an opportunity for writing a college-admissions essay as a part of the course-work, "English classes are very conducive to writing a college essay" in general. 
Teachers are working tirelessly to write letters of recommendation and many teachers have taken on the extra task of reading students' admissions essays on their own time. Bach shares that "it stresses [him] out a little bit because [he's] trying to grade analytical writing related to [his] course content and a lot of the time students want [him] to concurrently look over their other writing that doesn't have anything to do with [his] course." While college preparation work may not be included in a school day, teachers (like college-bound students) are taking personal time to work on these things and support their students in various other ways.
Complaints echo among seniors through the hallways about work-load and lack of teacher grace and for a lot of teachers, not much can be done about it. Especially in honors/advanced placement courses Mr. Bach shares that, "I don't have any time to spare for things that don't deal with the study of literature" but that he is flexible in terms of pacing. Schaefer and Bach both have rearranged schedules in the past out of an understanding of the college application deadlines many students are trying to meet. Communication is key though, and finding ways to kindly inform teachers of due dates will sometimes have positive repercussions. 
Senior Max Marchand claims that working on college applications is "more of a personal thing because not everyone is going to college." This is true; apprenticeship programs, the military, employment, and trade schools are all post-high school pathways that don't require the same kind of application process. Therefore, setting aside time to support students on college applications is not necessarily valuable for all students.