The App That Kills Phones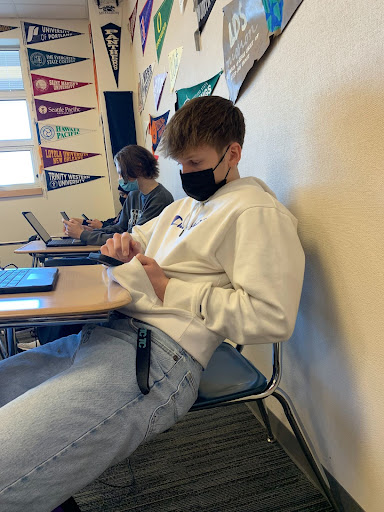 Some say Clash Royale is a fun and addicting game but others say it's a game to build competitiveness, frustration, and determination. Clash Royale has been out since 2016 and suddenly students are constantly playing it in class. It went from clash of clans to fortnight to PUBG to Clash Royale. Recently it became popular and students were so invested in the game that they threw their phones when they lost a game. The question is why do students play a game that frustrates them and destroys their phones?
According to Clash Royale's official website, "it is a real-time multiplayer game starring the Royales, your favorite Clash characters, and much, much more. Collect and upgrade dozens of cards featuring the Clash of Clans troops, spells, and defenses you know and love, as well as the Royales: Princes, Knights, Baby Dragons, and more. Knock the enemy King and Princesses from their towers to defeat your opponents and win Trophies, Crowns and glory in the Arena." Some students play it for fun because others are playing it but Vaughn Vanslyke, Senior at Olympia High School said, "it gives people chances to talk to their friends and also compete with them, as well as creating a very small community. I play it because It's genuinely fun and I can make groups in the game with my friend group" While Ethan Plummer, Senior at Olympia High School said, " I play it because of the people around me who got into it. It can be a nice way to pass the time depending on the situation, but I honestly downloaded it because of friends."
At Olympia High School you hear many stories about students throwing their phones around their bedroom because they lost too many games or cracking their screens because they lost one match. Vaughn said, "The game has a competitive aspect to it, which makes losing really really frustrating, and then I'll get really angry and throw my phone if I lose too many times." From Ethan's perspective, he thought "people get angry about other things not going their way. When you lose, that means you didn't reach the goal. And the goal of the game is to win. It will affect others more than some but in the end, if you care about any game then it's understandable why one may get upset."
Even though they break their phones or damage them, do they still play the game? Rowen Satre, a senior at Olympia High School says, "It is fun and sometimes toxic when playing certain people. I tend to get angry sometimes when a game doesn't go my way or if it is a randomly unfair matchup, but overall I do love the game and everything about it." Students still play the game because it is a fun game even if it means damaging their phones. It seems more of a character issue than the game itself that causes the dilemma of the destruction of the phones.